Chick-fil-A statements continue to confuse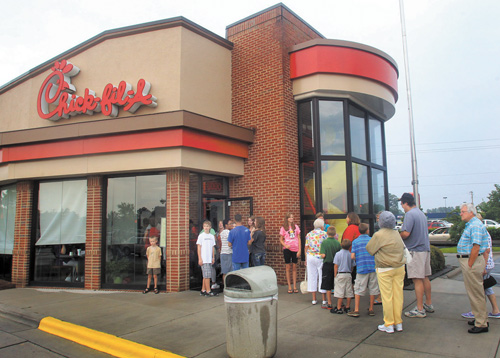 Photo
Customers line up outside the Chick-fi l-A Restaurant at New Bern Mall in New Bern, N.C. It is not entirely clear whether Chick-fil-A has definitely ended its financial businsupport for groups that oppose same-sex unions.
Associated Press
ATLANTA
Chick-fil-A once again is in the public-relations fryer.
The controversy flared up this week when a Chicago politician said the company no longer was giving to groups that oppose same-sex marriage, angering Christian conservatives who supported Chick-fil-A this summer when its president reaffirmed his opposition to gay marriage. Civil-rights groups hailed the turnabout, yet the company never confirmed it and instead released two public statements, neither of which made Chick-fil-A's position any clearer.
The events suggest the Southern franchise may be trying to steer clear of hot-button social issues while it expands in other, less- conservative regions of the country. In its statement Thursday, the Georgia-based company said its corporate giving had for many months been mischaracterized.
"Part of our corporate commitment is to be responsible stewards of all that God has entrusted to us," the statement said. "Chick-fil-A's giving heritage is focused on programs that educate youth, strengthen families and enrich marriages and support communities. We will continue to focus our giving in those areas. Our intent is not to support political or social agendas."
The three-page statement did not say whether that included gay marriages.
The company's response, its second in two days, was posted on its website after Chicago Alderman Joe Moreno announced the alleged policy change. Moreno said the change followed extended negotiations, and as a result, he would no longer try to block a Chick-fil-A restaurant from opening in his district.
Social-networking sites lit up after Moreno's remarks, with many people saying Chick-fil-A had caved to pressure from gay-rights organizations.
The Cathy family always has been public about its faith.
Since Dan Cathy's father, Truett, opened the first Chick-fil-A in 1967, the restaurants have been closed Sundays.
The company refused to reconsider the policy during the 1996 Olympics in Atlanta, sacrificing even more profit.
University of Georgia marketing professor Sundar Bharadwaj said the company is risking alienating its customers.
"You can change your position, but you have to have a rational reason for the change and be consistent and communicate that to your customers," he said. "Two different brands cannot be visible to the customer. Your authenticity is questioned after that, and your brand loses equity."
The company has declined to take any questions from the media.
More like this from vindyarchives.com