Browns' Shurmur: Give Weeden time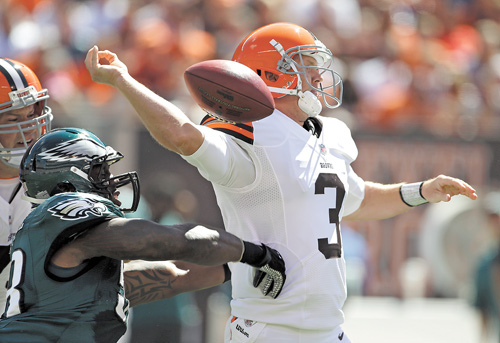 Photo
Cleveland Browns quarterback Brandon Weeden (3) has the ball knocked from his hand by Philadelphia Eagles defensive end Trent Cole in the first quarter of a game in Cleveland on Sunday. Weeden had one of the worst debuts in NFL history, a 5.1 rating. Cleveland's defense forced five turnovers but couldn't get the one it needed to stop Michael Vick. It added up to another tough loss, but one that showed some promise for a young team.
Associated Press
BEREA
Brandon Weeden's four interceptions, 5.1 passer rating and general ineptness in the rookie's NFL debut on Sunday against Philadelphia has some Browns fans worried.
Others are calling for change — after one game!
On Monday, Cleveland coach Pat Shurmur expressed confidence that Weeden will shake off his abysmal outing and improve, and he delivered a strong message to those fans demanding that backup Colt McCoy take over the Browns offense.
"Clamoring for Colt?" Weeden said dismissively, repeating the reporter's question. "Brandon Weeden is our starter and he's going to get better, that's what I'm going to tell them."
Weeden completed just 12 of 35 passes for 118 yards and threw the four picks against the Eagles, who rallied in the closing minutes for a 17-16 win. The 28-year-old's performance was shocking for the Browns, who have been impressed with Weeden's strong arm and solid demeanor from the moment he arrived in Cleveland.
The Browns expected growing pains with Weeden, but not ones so severe, so early.
Weeden's day began ominously when he was sacked by a giant U.S. flag being unfurled across the field for the national anthem. It got worse from there as he forced passes, missed open receivers, had balls dropped and fumbled twice.
He was historically bad.
According to STATS LLC, his QB rating was the sixth lowest for any quarterback attempting 15 passes in a season opener since 1970. Also, his paltry rating was the seventh worst for any QB making his first career start since the AFL/NFL merger.
It would be enough to shake any rookie, but Shurmur believes Weeden will rebound.
"He won't lose his confidence," Shurmur said. "I think it's important we go back, just like we do each week, work on the fundamentals of playing the position and get ready to play the next team. That's it."
Weeden didn't appear ready, and there's an argument to be made that he wasn't. After all, he played just five quarters — 18 total possessions — in four exhibition games and did not throw a touchdown pass. He had little chance to develop chemistry with his receivers and it showed as Cleveland's offense struggled, gaining just 210 yards.
"He's got to look at this game and make the corrections," Shurmur said. "I told the team this: 'What happened yesterday is correctable.'"
More like this from vindyarchives.com