Deltas will honor dedication at annual event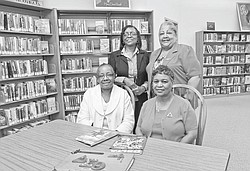 Photo
Among those planning the Delta Sigma Thetas' Tribute to Black Excellence event are, seated from left, Michele Dotson, chairwoman, and Gwen Montgomery, and standing from left, Charlotte Grant and Nikki Davis. Photo by: ROBERT K. YOSAY | THE VINDICATOR
GIRARD
The Youngstown Alumnae Chapter of Delta Sigma Theta Sorority Inc. has scheduled its 11th annual Tribute to Black Excellence on Sept. 21 at the Mahoning Country Club, 710 E. Liberty St.
The organization also is celebrating the 100th year since its national founding at Howard University in Washington, D.C., in January 1913.
The Tribute to Black Excellence will begin with a social hour at 6 p.m., and dinner will be served at 7. The cost is $40 per person, and semiformal attire is requested. A cash bar will be available, as well as an auction (cash only). A disc jockey will provide music for dancing and entertainment.
The tribute honors individuals and/or organizations that have attained significant milestones or made noteworthy contributions in the Valley. This year's honorees are Molly Seals, physical and mental health; Jaladah Aslam, political awareness and involvement; Presley Gillespie, economic development; Wanda Clark, educational development; Derrick Toles, community service; and Dr. Rashid Abdu, special recognition for community service.
To buy tickets, call 330-720-6389 or contact any local chapter member. Members are requesting ads and benefactors. For information call the above number.
Event proceeds will benefit the Mary McLeod Bethune Scholarship Fund, voter education and registration, health and financial training, and mentoring young people. The Youngstown chapter has awarded more than $300,000 to students in the Mahoning Valley.
Michele Dotson is the event chairwoman, and her committee members are Dr. Sherri Lovelace-Cameron, Nancy Murray, Charlotte Grant, Renee Carnathan, Gail Waters, Crystal Davis, Susan Moorer and Nikki Davis.
Delta Sigma Theta members dedicate themselves to the sorority's Five Point Programmatic Thrust, developed by the founders. The points are economic development, educational development, international awareness, physical/mental health and political awareness.
Elected officers for the coming year follow: Gwen Montgomery, president; Eboni Williams, first vice president; Sharella Thomas, second vice president; Dr. Michelle McCollin, recording secretary; Marcia Haire-Ellis, corresponding secretary; Aluanna Armour, treasurer; Dr. Lovelace-Cameron, financial secretary; Moorer, parliamentarian, Camille Pinkard, historian; and Dr. Gloria Tribble, chaplain.
More like this from vindyarchives.com