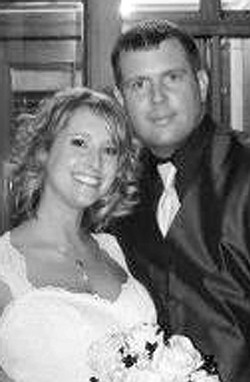 Photo
Jami White and Ryan Evans
HUBBARD
Jami White and Ryan Evans, both of Hubbard, exchanged marriage vows during a ceremony at 5:30 p.m. March 30 at First United Methodist Church of Hubbard before The Rev. Daniel Yargo.
The bride is the daughter of Walter and Debbie White of Hubbard. The groom is a son of Charles and Liz Evans of Hubbard.
The newlyweds accepted congratulations during a reception at The Corinthian, Sharon, Pa. They honeymooned in Montego Bay, Jamaica, and are making their home in Hubbard.
The bride wore a lace cap-sleeve trumpet gown styled with a keyhole back and beaded sash.
Sarah Doughton was maid of honor. Bridemaids were Sarah Herrholtz; Megan Crisucci and Erin Fullerman, cousins of the bride; Erica Gredel and Erin Evans, the groom's sisters; Tiffany Mediate; Sara Kostelac; and Mariah Tomo, the bride's cousin and godchild. Flower girls were Jocelyn Doughton, the bride's goddaughter; Julia and Ava Fullerman, the bride's cousins; and Jewlia and Victoria Evans and Maggie and Emily Gredel, nieces of the groom. The attendants wore black dresses with chartreuse green accents.
Rich Evans performed the duties of best man for his brother. Groomsmen were Michael Barnes; Tony Matola; Mark Thomas; Gaylord Gredel, the groom's brother-in-law; Doug Hivner; Jeremy Ifft; John Doughton III; and Joe White, the bride's cousin. Ushers were Eugene White III and Bill Hart, the bride's cousins. Ring bearer was Geno Crisucci, the bride's cousin.
The bride graduated with a bachelor's degree in arts from Westminster College.