Dinner honors Lepleys for 60th anniversary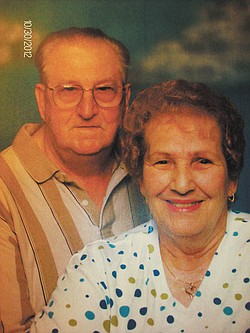 Photo
MR. AND MRS. CHARLES LEPLEY
YOUNGSTOWN
Mr. and Mrs. Charles Lepley of Youngstown were honored for their 60th wedding anniversary with a dinner celebration Nov. 17 at the Saxon Club, Meridian Road, Austintown.
Their daughters, Joyce (Syl) Pace of Girard and Pauline (Tom) Crittenden of Elizabethtown, Ky., were the hostesses.
The family is completed with seven grandchildren and two great-grandchildren.
The former Maryann Alleman married Mr. Lepley on Nov. 15, 1952, at Struthers United Methodist Church.
Mrs. Lepley is a homemaker.
Mr. Lepley was a boilermaker for Youngstown Sheet & Tube Co.
The couple are members of the Saxon Club.