Canfield puts it all together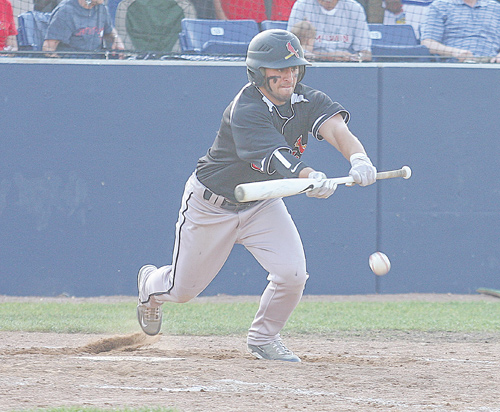 Photo
Canfield's Ben Angelo lays down a bunt during a Division II regional semifinal baseball game against Canton South on Thursday at The Ballpark at Hudson High School. The Cardinals dominated the Wildcats, 14-1, to advance to the regional final today against Mentor Lake Catholic.
Cardinals rout Can. South
By ryan buck
HUDSON
"Dirty Birds" were flying high over the Division II regional baseball semifinal on Thursday.
Canfield pounded out 16 hits and starting pitcher Alec Buchenic's complete game, five- hitter enabled the 11th-ranked Cardinals to a 14-1 victory over No. 15 Canton South at The Ballpark at Hudson.
Every Cardinal starter recorded at least one hit in the game. Canfield advanced to play Mentor Lake Catholic in a rematch of last year's regional semifinal today at 5 p.m.
Coach Matt Koenig, gunning for his second regional title, lauded his team's effort in its most complete effort of the season.
"We got into a groove there in a couple different innings. We were able to produce a couple of runs and these guys never took their foot off the gas pedal. That's something that we try to preach is when you get a lead to keep that lead."
After falling behind 1-0 in the second inning, Canfield's offense came alive an inning later.
Michael Ross' two- out single down the right field line scored Michael Wittman and Joe Tuchek.
They scored four more run in the fourth on four hits to break the game open. Anthony Ross recorded an RBI; he had two for the game and was stellar defensively behind the plate.
"I was seeing the ball pretty well, but that doesn't really matter," he said. "It was just a great team effort; I didn't do anything special. Our team just all around hit the ball."
The Cardinals did their damage against South starter Logan Bowles (10-1) .
"That's one thing we love. We want to face the best," said Ross. "We knew he was going to Ohio State and we were excited. We wanted that and didn't want to face anyone else."
Buchenic fed off his offensive support.
"When I have a six, seven-run lead, it's so much easier to make pitches and get out of innings. It felt so great," he said.
The right-hander didn't allow a walk and kept the Wildcats off-balance with his biting two-seam fastball.
"For just a sophomore, that is special, really special," Koenig said of his ace. "He's certainly learning a lot right now from these seniors and I hope that we can continue that."
Two more runs in the sixth and six more in the seventh punctuated the evening. The "dirty bird" calls grew louder from the Cardinal faithful.
"We've made it like our team lifestyle. You have to be crazy," Ross said, as he explained the team moniker devised earlier this spring. "We have fun with it; we're just a bunch of goofy kids, relaxed before the game and we play well together."