Flag football squads battle for playoff positioning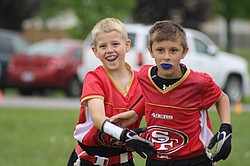 Photo
Poland's Nathan Scheck (left) and teammate Mark Lanterman celebrate after a play in last unday's flag football game.
With still so much still to be decided in the last week of the regular season, teams are preparing to play their best football as the spring 2012 season comes to an end.
With more than 50 teams battling for playoff position, one win or loss could drastically shake up how the playoffs standings.
This week's 5-6 division games will feature seven teams with no more than two losses. This division very well may be the toughest division to win.
Key contests in Week 6 are the Raiders (4-1) against the Eagles (3-2) at noon and the Browns (4-1) against the Cardinals (3-2) at noon.
The 7-8 division regular season championship will be decided this Sunday as the Washington Redskins (5-0) and Green Bay Packers (5-0) battle.
This game pits the division's top two scoring offenses and the winner lock up the No. 1 seed and secure a first-round bye in the playoffs.
Kickoff is at 2 p.m.
A pair of 4-1 teams will face off in the 9-11 division Game of the Week at 4:30 on Sunday. The New York Giants and the Atlanta Falcons have flown under the radar in the 20-team division.
This week they will be center stage for a key game with playoff seeding implications.
For more information on the league or see photos and videos of game action, visit www.yffayouth.net.