Peyton's Place? In Denver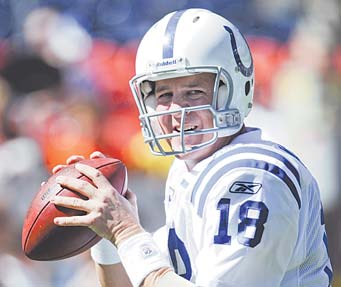 Photo
Quarterback Peyton Manning has agreed to join the Denver Broncos and instructed his agent, Tom Condon, to work out the details of a contract agreement with the team.
Associated Press
DENVER
The Denver Broncos got their Man. Make that Peyton Manning.
Pending final contract negotiations, Manning will join John Elway's Broncos with hopes of winning another Super Bowl.
So much for Tebowmania.
Still to be decided is what happens to last season's quarterback sensation, Tim Tebow.
The Broncos and Manning agent Tom Condon spent Monday working out parameters of a deal expected to be worth about $95 million over five years after the NFL's only four-time MVP called Elway, the Broncos' revered QB-turned-executive, and told him he had decided to come to Denver.
Tennessee Titans owner Bud Adams also said Manning let him know that he had picked the Broncos. Besides the Titans, the San Francisco 49ers had been a finalist in the chase for Manning, who turns 36 on Saturday and missed all of 2011 because of multiple neck surgeries.
ESPN first reported the record-setting quarterback instructed his agent to negotiate the details of a deal with the Broncos, less than two weeks after the Indianapolis Colts released him rather than pay a $28 million bonus.
"I think it's a great place for him," Denver defensive end Robert Ayers said outside the Broncos' complex. "I don't think he made a bad decision. I think he made a great decision. Hopefully we can prove him right and hopefully we can win a lot of games here."
Despite being sidelined all of last season, Manning's success in the past — the Colts averaged a 12-4 record from 2001-10 — made him by far this offseason's top potential signing and perhaps the most desired free agent ever.
He was wooed to Denver by Hall of Fame quarterback Elway, who led the Broncos to two Super Bowl championships and now serves as their vice president of football operations.
Elway, who retired from the game after winning his second straight title in 1999, never sounded all that convinced Tebow was the answer at the sport's most important position and now could trade the enormously popular but flawed QB.
Tebow energized the Broncos in leading them to the playoffs last season — and has fans all over the country — but his play was erratic.
"I wouldn't say I feel bad for him," Ayers said. "It's a business. And I'm pretty sure Tim understands that. ... We wish him luck, no matter what he does. I hope he's here. He's a great leader, a great locker room guy."
Manning was cut loose March 7 by the Colts. The move marked the end of an era, a 14-year alliance between the team that drafted Manning No. 1 overall and the QB who brought Indianapolis from football irrelevance to the 2007 Super Bowl title and a second appearance in the NFL championship game three years later.