Vindy sports editor headed to Alliance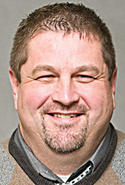 Photo
Staff report
YOUNGSTOWN
After more than 20 years of commitment to The Vindicator's sporting community, Sports Editor Rob Todor will return to the newspaper from where he came to be its editor.
Todor will become editor of The Alliance Review effective July 2, where he first worked as a sports reporter in 1985. His last day with The Vindicator is Saturday.
"There have been thousands of names and faces over the years in our sports pages, and Rob's thumbprint is on most of them," said Vindicator Editor Todd Franko. "He's been a dedicated leader for us for years, and we're proud he got this new opportunity."
Todor joined The Vindicator in 1990 under then-sports editor Chuck Perazich. Todor was promoted to sports editor in 1999.
Some of his more memorable events were covering Super Bowl XXIX in 1994, when Eddie DeBartolo Jr.'s San Francisco 49ers defeated the San Diego Chargers; the Indians' pennant-clinching win in 1995; and Jim Tressel and Ohio State defeating Miami (Fla.) for the national championship in January 2003.
The Vindicator sports section has been honored by the Ohio Associated Press many times in his tenure — for writing, layout and special projects. Two years ago, it placed third for Best Daily Sports Section.
"It wasn't merely the awards that came our way by virtue of our sports coverage," Vindicator Publisher Betty H. Brown Jagnow said. "It was the way Rob related to our readers and guided our coverage to best serve female athletes as well as male athletes."
A search is on for a replacement. Reporter Joe Scalzo will serve as interim sports editor until a new person joins the team.
More like this from vindyarchives.com