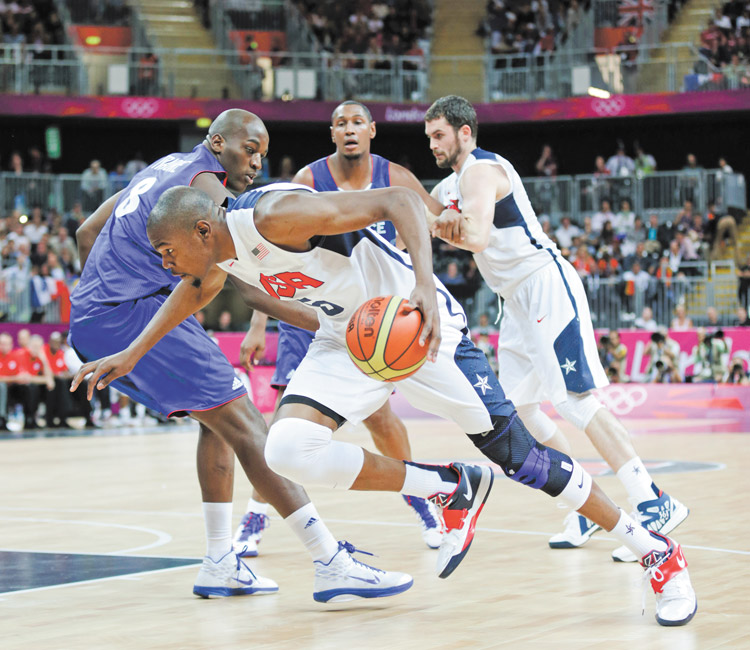 ---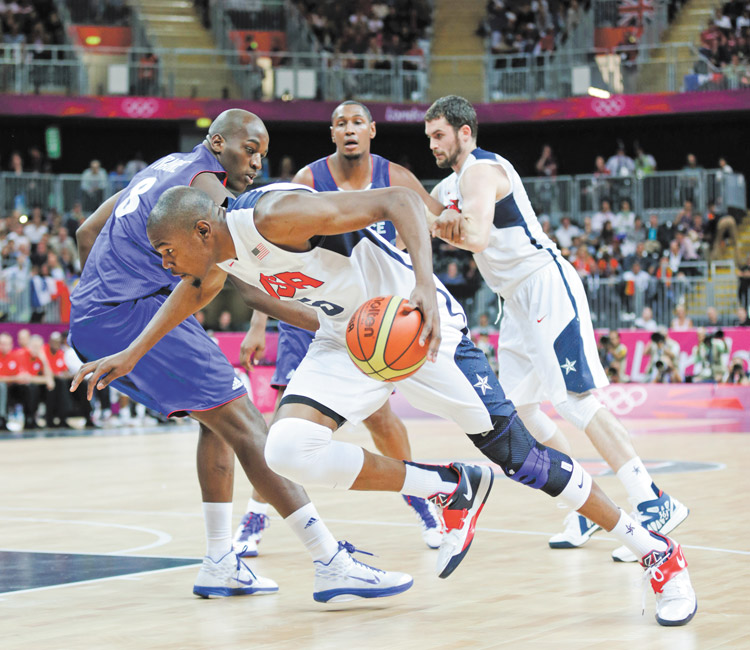 Photo
USA's Kevin Durant drives to the basket past France's Ali Traore during the first half of a preliminary men's basketball game at the 2012 Summer Olympics on Sunday in London. The USA won 98-71.
Associated Press
LONDON
Hardly dreamy, still dominant.
Kevin Durant scored 22 points, LeBron James added eight assists and the U.S. Olympic men's basketball team opened tournament play with a rough-and-ragged 98-71 win over France on Sunday.
Seeking a second straight gold medal to match the one they won in Beijing four years ago, the Americans expected a tough test from a French team featuring San Antonio guard Tony Parker and five other NBA players.
The U.S. was never in real trouble, and after overcoming some major foul issues and sloppy play, the superstar-laden squad finally put France away in the second half.
"It wasn't perfect," James said. "We've still got room for improvement. We had too many turnovers, too many fouls and we had a couple of defensive rebounds we could have come up with. But overall, we played a pretty good game for as close to 40 minutes as possible."
Kobe Bryant had said this team could beat the 1992 Dream Team that changed international hoops forever at the Barcelona Games. That matchup is mythical, but the London Games aren't and this U.S. team will have to play much better in upcoming Games if it plans to maintain American dominance.
Parker didn't want to concede anything, but when asked if the Americans can be beat, he took a contemplative pause before responding.
"They're going to be very, very tough to beat," Parker said.
U.S. point guard Chris Paul wasn't concerned about the sluggish offensive performance to start the game.
"We got off to a slow start, probably a little too anxious," he said. "Like we've been saying all along, our defense is what makes us so good. As long as we do that, we'll have a chance."
With First Lady Michelle Obama on hand to cheer on the U.S., Durant, Carmelo Anthony and Tyson Chandler added nine rebounds apiece and Kevin Love finished with 14 points for the Americans. The U.S. will next play Tuesday against Tunisia, beaten 60-56 by Nigeria in the tournament opener.
As they left the floor, the U.S. players stopped to hug the first lady.
Parker, playing with goggles to protect a surgically repaired left eye, scored 10 points but France, which trailed by just one point after the first quarter, fell to 0-5 in Olympic competition against the USA. Ali Traore led the French with 12 points.
With the U.S. leading 52-36 at halftime, Durant opened the second half with a 3-pointer, Bryant dropped one from long range and after James dunked an alley-oop pass from Deron Williams, the Americans led 64-43.
Au revoir, France.
"We're trying to figure out how to play with the rhythm of the game," Anthony said. "Once we figured that out, we were good."
The U.S. team's lead ballooned to 78-51 after three quarters, allowing coach Mike Krzyzewski to rest Bryant, James and Durant for most of the fourth quarter. With the game well in hand, Krzyzewski even gave 19-year-old Anthony Davis, the top pick in June's NBA draft, his first taste of Olympic play.
Unlike his peers, Krzyzewski has the luxury of a deep bench and he was forced to go to it early and often in the first half, when the Americans racked up fouls.
After the U.S. started the game by missing its first six three-point attempts, Bryant, James and Durant started finding the range from beyond the arc. The trio finished the game a combined 6 for 12 from three-point range while the rest of the U.S. went 2 for 13.
Parker nearly missed these Olympics. The 30-year-old recently underwent surgery after he was hit with broken glass during a nightclub fight in New York.