Festivities honor the Wolfords for 60th anniversary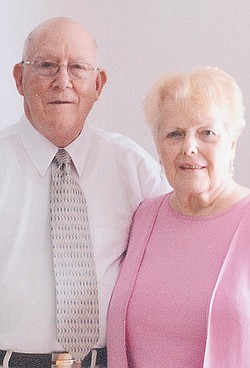 Photo
Mr and Mrs. Glenn Wolford
NEW CASTLE, PA.
On June 20, 1951, Glenn Wolford and Martha Van Meter exchanged wedding vows at the United Presbyterian Church in New Bedford, Pa.
Recently, Mr. and Mrs. Wolford, of New Castle, Pa., marked their 60th anniversary with a party hosted by all their family at The Tavern in New Wilmington, Pa.
The couple's children are Mary Jane (Bill) Kalajainen of Lansdale, Pa.; Leslie (Denny) Ratvasky) of Pulaski; and Sandy (Greg) Workman and Gary (Betsy) Wolford, of New Castle. The couple have five grandchildren and one great-grandchild.
Mrs. Wolford retired after nine years as an administrative assistant at Villa Maria Community Center in Villa Maria, Pa. Before that she worked at Westminster College for 28 years.
Mr. Wolford retired after 36 years with U.S. Can Corp. in Hubbard. He served with the 2nd Armored Division based in Germany from 1952 to 1954.
The Wolfords are members of First Alliance Church of New Castle.
More like this from vindyarchives.com