Boardman wrestlers fourth at tourney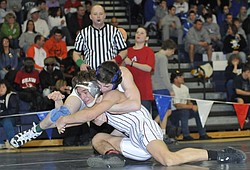 Photo
Poland's A.J. Shields looks to control the back of Boardman's Peter Ryan.
The Boardman wrestling team came up big in the finals of the Josh Hephner Memorial tournament last Saturday night, going six-for-six in the placement rounds.
The Spartans' success during both days of action sparked the team to a fourth-place finish, highest among any of the teams from the Valley who competed in the event.
Boardman tallied 217 points, trailing champion Lake (272.5), Lancaster (232) and Massillon Jackson (229).
Nick Mancini won the individual championship at 106 pounds, John Dillon was tops at 126 pounds and Nico Graziani claimed the 160-pound crown. The trio combined for two pins and a technical fall in the championship bouts.
"I thought we wrestled tough as a team, getting six placers and three champs is a good performance at the Hephner tournament," said Boardman coach Dom Mancini. "Nick (Mancini) completely dominated the competition, going six-for-six with all pins. John Dillon and Nico Graziani also won in dominating fashion."
Mancini said that the surprise of the tournament for his squad was Tom Moran, who wrestled up a weight class and finished seventh at 152 pounds.
Other finishers for Boardman were Peter Ryan (third, 132) and Joe Cordova (fifth, 182).
"The pool tournament is good this time of the year because it gives all the wrestlers a chance to compete in four or five matches, whereas bracket tournaments can send a wrestler home after two losses," said Mancini. "It's more for us to see all the kids wrestle a lot of matches, so that we can correct mistakes that they make.
"This tournament holds a special place for me. I can still see Josh Hephner wrestling in the 1993 district tournament before he was killed in a car accident the following summer. The tournament stands for more than wrestling, it's about the Austintown community coming together to recognize the passing of not only Hephner, but also John Moritz, who was the tournament founder who passed away."