Judge to speak at Women's Equality Day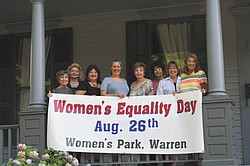 Photo
Committee members who are planning Women's Equality Day are, from left, Kathy Lepro, Julie Vugrinovich, Ellen Partin, Isabelle Seavey, Eddie Wolcott, Dorie Harris, Terri Crabbs and Mary Lou Jarrett. Members not pictured are Gloria Rodgers and Phyllys Savelle.
WARREN
A Women's Equality Day celebration is set for 3 p.m. Aug. 26 at the Women's Park next to Warren's City Hall on Mahoning Avenue.
The annual event recognizes the passage of the 19th Amendment, which gave women the right to vote.
This year's keynote speaker will be Judge Mary Thornton House, a superior court judge of California and Los Angeles County.
Last summer Judge House presided over a court case in California, presented at the request of the Upton Association, to exhume the ashes of suffragette Harriet Taylor Upton and send them to Warren, where Mrs. Upton lived for 60 years in what is now known as the Upton House.
Judge House attended the re-interment ceremony last September and will return to the area for the Women's Equality Day celebration this year.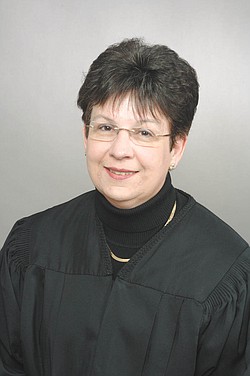 Photo
She was appointed to the bench in 1996 and started the first dedicated domestic violence court in the San Gabriel Valley, which is still in existence. She now acts as supervising judge of the court as well as for the Northeast and North Central Districts of Los Angeles County Court system, the largest trial court in the world.
She has received numerous awards. In March 2004, Los Angeles County honored her as its Woman of the Year for her efforts on behalf of women's issues, and in October 2004 she was recognized by the Pasadena Bar Association as their Judge of the Year.
In 2008, the California Judges' Association awarded her the Bernard F. Jefferson Award for Excellence in Judicial Education and in June she was elected vice president of the association.
In February 2011 the San Fernando Valley Bar Association presented her with its Excellence in Judicial Administration award.
She has been a leader in judicial education and heads the nationally recognized B.E. Witkin Judicial College for the State of California as its dean.
In addition to Judge House's keynote speech, the Women's Equality Day program will include a presentation of colors by the U.S. Army Warren Recruiting Company; a special presentation of Harriet Taylor Upton and Zell Hart Deming, as portrayed by E. Carol Maxwell and Kay Fisher; a proclamation by Mayor Doug Franklin; and music entertainment by Lakeview High School student Caitlin Overton.
Those attending should take their own lawn chairs; seating is limited. Refreshments will be served after the program.
The League of Women Voters of Trumbull County, Upton Association, Warren Civic League, GFWC Ohio Warren Junior Women's League and GFWC Warren City Federation of Women's Clubs are sponsoring the event.