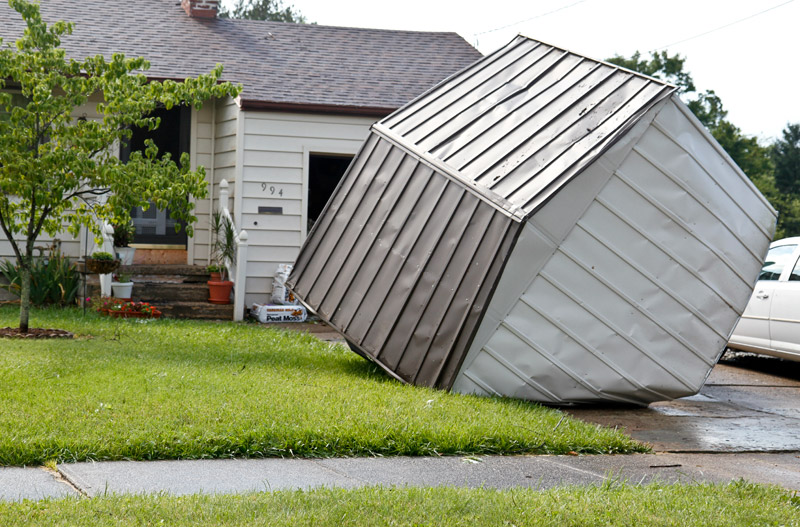 ---
By jeanne starmack
girard
Girard Storm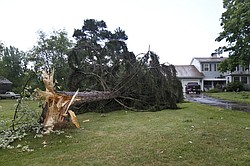 Gallery
Storm Damages in Girard, Ohio on August 5, 2012.
Mike Costarella was sitting in his garage when what apparently was a small tornado swept through 50 feet away from his Dravis Street house Sunday afternoon.
"I stuck my head out the window and saw a bunch of swirling debris," he said. "I turned and ran in the house and got my kids in the basement."
His wife was in the shower, he said, when he told her there was a tornado three houses away.
The storm that passed through Girard, Liberty Township and Hubbard into Pennsylvania started shortly after 2:30 p.m. It had not been confirmed as a tornado Sunday by the National Weather Service.
If it was one, it likely would be classified as an F-0, the weakest on the Fujita Scale, said a meteorologist for the National Weather Service in Cleveland.
A funnel cloud is a funnel-shaped cloud of condensed water droplets, associated with a rotating column of wind and extending from the base of a cloud but not reaching the ground or a water surface. If a funnel cloud touches the ground, it becomes a tornado.
There was extensive damage in a neighborhood in the north end of Girard around Park Avenue. There also was considerable damage in Liberty Township, with trees down on houses and cars, said township Fire Chief Michael Durkin.
By the time the storm got to Hubbard Township and Hubbard, it was pulling its punches. A dispatcher for the city and township said there were no reports of damage at all.
But in Girard, people were out picking up the pieces of their broken awnings and roof shingles. Several said they were thankful that in spite of all the downed trees and wires, no one got hurt.
The Girard and Liberty fire departments said there were no injuries reported.
There also were problems with the warning systems in both communities. Girard did not activate its sirens until 10 minutes after the storm had passed, said Costarella, and his frightened neighbors headed back to their basements because they thought another tornado was coming. He said he questions the wisdom of turning on the siren after the storm passed.
A firefighter in Girard said the department was not aware the danger had passed when the siren was activated.
Acting Girard Capt. Bud Walker said Girard's weather radio, through which the National Weather Service gives tornado warnings, never went off.
He said they received no notification at all until two women came to the station because they were frightened and wanted to hide.
He said he set off the siren as he was going out the door to check out their report of a tornado on the north end.
At the National Weather Service, meteorologist Robert LaPlante said the agency issued a tornado warning through its weather radio at 2:42 p.m.
"It would be up to the local communities to pick that up," he said.
Girard Mayor James Melfi, who lives in the neighborhood the storm went through, said he has to speak with the fire chief, the city's safety services director and the 9-1-1 dispatchers today to figure out what went wrong.
In Liberty, the sirens never went off at all. Durkin said it was up to Trumbull County's 9-1-1 dispatch center to activate them. The township closed its dispatching operations last week and now uses the county's system.
A supervisor at the center said he would not comment, referring questions to a center administrator who was not available Sunday.
The weather service didn't issue its warning until after it began getting calls from people about the storm, LaPlante said. He said the storm did not show up on the radar as anything but showers and "maybe a weak thunderstorm."
"Not everything is seen by the radar," he said. "There are a lot of variables."
Meteorologist Jim Kosarik said the showers developed "very quickly" and there was enough rotation to cause the havoc.
Girard neighbors on Shannon Road and Park, Gary, Lincoln, Ward and Highland avenues know the storm was anything but weak.
"My daughter-in-law saw the funnel," said Joyce Pritchett of Park Avenue. "I just saw the tree flying through my patio."
Throughout the neighborhood, trees and tree limbs were down in yards. Repair crews already were busy patching roofs and clearing debris.
Dominic and Jill Falgiani were watching as crews worked on the roofs of two rental homes they own on Highland. The couple said they live three blocks away and got no storm damage there.
At her home on Gary Avenue at the corner of Park, Regina Swauger was watching as her brother-in-law helped repair her roof. Awnings had been ripped from her windows, and her chimney was knocked down. A wire was ripped from the side of her house, and she had no electricity.
She was in her house at the time and did not see a funnel. "All I heard was, 'BOOM!'" she said.
"There was a lot of heavy wind and a roaring sound," said Kim Shuttleworth of Stambaugh Street. "My husband said he heard a roaring sound, like a train."
At the corner of Ward and Park avenues, Amy Sowers surveyed her crumpled metal shed that was now sitting in her front yard. Someone had taken it off the family's SUV, which wasn't badly damaged.
"At least the kids are safe," said Sowers, the mother of a 2-year-old girl and 9-month-old boy- and girl-twins.
Liberty Chief Durkin said the funnel cloud was visible from the fire station.
"You could see it come over the Super 8 Motel," he said, which is at Interstate 80 and Belmont Avenue.
He said falling trees did $30,000 damage to cars at the Oblate Sisters complex on Warner Road.
There were trees down on Shannon Road, and trees ripped apart on Keefer Road, he said.
Kosarik said the National Weather Service will visit the area today to get evidence before declaring the storm a tornado.
"There were numerous reports of funnel clouds," he said. "It's just a matter of time to determine if it touched down."
More like this from vindyarchives.com