Party surprises Zimbardis for 60th anniversary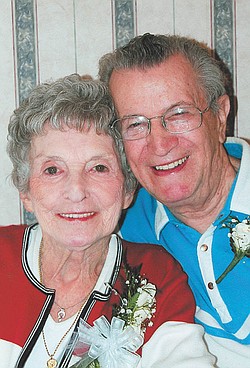 Photo
Mr. and Mrs. Anthony Zimbardi
BOARDMAN
Anthony and Dolores Zimbardi of Boardman were the guests of honor at a surprise anniversary party hosted by their children and their spouses July 22.
The Zimbardis celebrated their 60th wedding milestone at an afternoon affair with loved ones at A La Cart Catering in Canfield.
The Zimbardis' children and their spouses are Tony (Maria) Zimbardi of Liberty, Diann Zimbardi of Niles, Michael (Alyson) Zimbardi of Columbiana, Jon (Nicole) Zimbardi of Beaver Township and Andrew (Audrey) Zimbardi of Berlin Center.
Also, 14 grandchildren and five great-grandchildren round out the Zimbardi family.
Mrs. Zimbardi worked for Burton Supply, Youngstown, as secretary to the vice president before she retired. She is a member of Starlighters Dance Club and numerous bowling leagues.
Mr. Zimbardi was a machinist and die maker for Syro Steel in Girard before he retired. He also belongs to many bowling leagues.
Mrs. Zimbardi, the former Dolores Boyle, and her husband were married July 19, 1952, at St. Joseph Church, Youngstown. They are members of St. Dominic Church in Youngstown.
More like this from vindyarchives.com