Youngstown Deltas will offer healthful options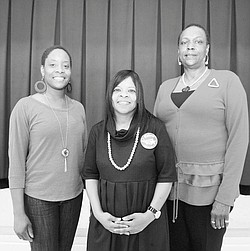 Photo
Photo by Jessica M. Kanalas | The Vindicator: Delta Sigma Theta Sorority alumnae are getting ready to step out in the name of health. Their third annual adults-only health fair is being planned for May 5 at Williamson Elementary School in Youngstown. Committee members include event chairwoman Marcia Haire-Ellis, at right, and Chantelle Hallman, left. Williamson School Principal Wanda Clark is in the center.
Staff report
YOUNGSTOWN
Members of the Youngstown Alumnae Chapter of Delta Sigma Theta Sorority, Inc., will sponsor their third annual Health Fair with Flair from 10 a.m. to 1:30 p.m. May 5 at Williamson Elementary School, 58 Williamson Ave., Youngstown.
The group hopes to reach members of the community by presenting health workshops and exercise activities.
The focus of the event, which is for adults only, is to assist in the prevention of heart disease, diabetes and other health concerns while encouraging healthful eating options, appropriate exercise and seeking regular medical exams.
There will be confidential blood pressure and blood sugar screenings, massages and manicures. Exercise demonstrations will include zumba, yoga and line dancing.
Nutritious food will be available along with recipes.
It is recommended that participants fast for 12 hours before the event to assure more accurate blood sugar readings.
Members of Delta are committed to fulfill a Five Point Thrust initiative, one being physical and mental health.
The chapter president is Gwendolyn Montgomery. Members of the Health committee include chairwoman, Marcia Haire-Ellis, Chantelle Hallman, Sharella Thomas, Eboni Williams, Mary Byrd Clark, Harmony Darby, Tahera Terry, Dr. Michelle McCollin, Susan Moorer, Ernestine Gordon and Nikki Davis, all committee members.