Idora Park gone, but its carousel has been fully restored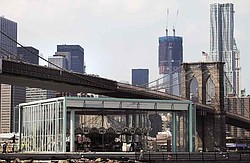 ASSOCIATED PRESS

Photo
Jane's Carousel, the former Idora Park carousel, opens to the public today on the edge of the East River at Brooklyn Bridge Park in Brooklyn, NY. The 89-year-old carousel, restored by artist Jane Walentas, is encased in a tiled box. The New York skyline is in background.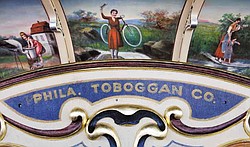 ASSOCIATED PRESS

Photo
Jane Walentas purchased the 1922 Philadelphia Toboggan Company carousel from Youngstown's Idora Park in 1984. Some 27 years later Walentas is reopening the carousel, renamed Jane's Carousel, today at Brooklyn Bridge Park.
A look at the history of one of Idora Park's most-loved rides.
1922: Idora Park welcomes a new carousel built by Philadelphia Toboggan Co.
April 1984: The Wildcat roller coaster catches fire, damaging part of the carousel. The fire at the park led to its permanent closing at the end of that season.
1984: New York Artist Jane Walentas purchases the historic carousel for $385,000.
1984 to 2008: Walentas spends the next two decades restoring the carousel, eventually renamed Jane's Carousel.
November 2008: A group of Mahoning Valley natives takes a bus trip to Brooklyn, N.Y., to visit the carousel after its completed restoration.
September 2011: Walentas opens the carousel to the public for the first time since 1984. The restored amusement-park ride is placed in Brooklyn Bridge Park at the edge of the East River in New York City.
Source: "Idora Park, The Last Ride of Summer" by Rick Shale and Charles J. Jacques Jr., The Vindicator, Jane Walentas.
By Elise Franco
Brooklyn, NY.
Jane Walentas' dream came to fruition today as the locally loved Idora Park Carousel, now Jane's Carousel, is restored to its former glory in Brooklyn Bridge Park.
Walentas, a New York artist, purchased the 1922 Philadelphia Toboggan Co. model carousel in 1984 after it was badly damaged in a fire at Idora Park.
She spent the next 22 years chipping away old paint and restoring each piece.
It opens to the public today at its new home, overlooking the East River at the edge of Brooklyn Bridge Park.
"I thoroughly enjoyed restoring it. That was the easy part," she said. "To me it was like an obsession. I started it, and I felt I had to finish it without even knowing if it would go into the park."
Walentas said getting ready for today's opening was all-consuming but worth the expected payoff.
"It was a struggle because there was a lot to it, but it was a wonderful, exciting experience," she said. "Getting it ready and open for the public to ride it ... It's been like 'The Agony and the Ecstasy.'"
Carousel rides are free to children under 3 who are accompanied by an adult and $2 for everyone else. It will be open daily except Tuesday from 11 a.m. to 7 p.m.
Restoring the carousel wasn't the only piece of the Walentas' ultimate puzzle, however. She said it's encased in a 27-foot by 72-foot box made of transparent acrylic tiles that took more than a year to design and build. French architect Jean Nouvel created the box.
Walentas said the box opens completely on two sides, giving carousel riders a completely unobstructed view of the Brooklyn and Manhattan bridges, as well as the river.
"It's very sophisticated, almost an engineering feat," she said. "If you're head-on, it looks clear; slightly to the side it gives you weird, beautiful distortions."
June Zordich, 70, of Austintown, said she has fond memories of a childhood spent at Idora Park riding the carousel.
"I had a favorite horse that I always rode, and my mother, she always rode behind me in the sleigh," she said. "In my junior year of high school, we went to an all-city prom held at Idora. Like teenagers do, we rode the carousel in our prom gowns."
In 2008, Zordich joined a group of Mahoning Valley natives on a bus trip to visit Walentas and the carousel. She said seeing the piece restored was wonderful for the entire group.
"[Jane] did a magnificent job," she said. "It just takes your breath away, and I don't think there are any other people who would have dedicated themselves the way she did."
Kathleen Crowley, 64, of Hudson, N.H., said she grew up in Youngstown and spent countless hours on the carousel as a child. She and her husband take their grandchildren to Canobie Lake Park in New Hampshire, which reminds them of Idora Park.
"I always rode and loved the horses, pretending they were real," Crowley said. "I also loved riding the carriages on the carousel and would pretend the horses in front were pulling the carriage like in [Western movies.]"
Walentas said it's important to her that Mahoning Valley natives are happy with how Jane's Carousel turned out.
"Idora Park and that carousel were very precious to Youngstown people," she said. "It was a wonderful place, a place where people went to relax and have fun."
Walentas said she receives a consistent influx of emails from people who have seen pictures of the carousel on her website, janescarousel.com.
"They want to come and see it ... People have plans already to come and see it," she said. "It makes memories. I think we all have memories of riding a carousel, the lights and the music and everything about it."
Zordich said she hopes New Yorkers who visit Jane's Carousel love and appreciate it as much as those from Youngstown continue to do.
"I just hope they appreciate what Jane did for the carousel," she said. "I hope they understand what a work of art it truly is. It will never be duplicated."