Rosselli to join basketball hall of fame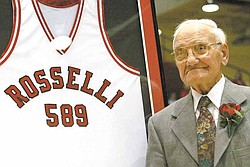 Photo
Don Rosselli is honored with a jersey in his name during a ceremony at halftime at Beeghly Stadium marking his years as a YSU basketball coach. The number589 on the jersey denotes the number of wins YSU had under the instruction of Rosselli (Vindicator/Mark W. Lipczynski).
Staff report
Columbus
Youngstown State coaching legend Dom Rosselli is among 19 men and women who have been chosen for the 2011 class of the Ohio Basketball Hall of Fame.
The induction ceremony will be held at the Greater Columbus Convocation Center on Saturday.
Current YSU coach Jerry Slocum said Rosselli's induction is a source of great pride for not only the basketball program but Youngstown State University as a whole.
"I'm proud to be part of a basketball program that he mentored for so many years," Slocum said. "We are all very happy for the entire Rosselli family. This is a very well-deserved honor.
"Coach Rosselli was a legend in the game of basketball, and a person that stood for the highest integrity in the game and life in general."
Rosselli, a charter member of the YSU Athletics Hall of Fame in 1985, was a fixture on the bench from 1940-41 to 1981-82. He nurtured a program from the NAIA to NCAA Division II and then to Division I. He was also instrumental in Youngstown State's rise as an independent to conference play, first in the Mid-Continent Conference on the Division II level and the Ohio Valley Conference in Division I.
In 38 years, Rosselli compiled a career record of 589-388 for a .604 winning percentage. He led his teams to eight 20-win seasons, including a 24-3 mark with an .889 winning percentage in 1963-64. Both are school records for most wins and highest winning percentage in a season.
When he retired following the 1982 season, he was ranked 10th in NCAA history in lifetime victories. He recorded the second-most wins in NCAA Division II history.
During the 1956-57 season, Rosselli guided the Penguins to a 23-4 mark and an appearance in the NAIA quarterfinals. The following season Youngstown State finished 23-7 and advanced to the third round of the NAIA national tournament, and in 1958-59 the Penguins were 19-9 and again advance to the NAIA national tournament.
Rosselli passed away at the age of 93 on Oct. 7, 2008.