Pearson sworn in as judge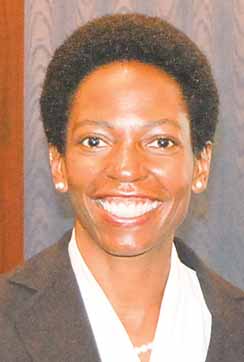 Photo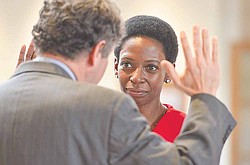 The Vindicator (Youngstown)

Photo
The honorable Benita Y. Pearson is sworn in by Senator Sherrod Brown at the Butler Institute of American Art.
YOUNGSTOWN
As the first black female federal jurist in Ohio, U.S. District Court Judge Benita Y. Pearson said it wouldn't have happened without those who blazed the trail before her.
"I will carry the torch; I will pick up the mantle," Judge Pearson said Friday at her swearing-in ceremony at the Butler Institute of American Art on Wick Avenue.
And she also vowed to "be a role model" to those who follow.
Many of the speakers at the ceremony talked about the historic appointment of Judge Pearson, a process that took well over a year.
"It is one more step along the way to have a federal judiciary reflect the face of America," said retired Judge Nathaniel R. Jones of the U.S. 6th Circuit Court of Appeals and a Youngstown native who lives in the Cincinnati area. "This is an event so special to me that I was compelled to come and witness the oath being administered and offer my congratulations."
U.S. Sen. Sherrod Brown, a Democrat from Avon, recommended Pearson for the judicial job in July 2009. The recommendation came shortly after U.S. District Court Judge Peter C. Economus went to senior status, thus creating an open full-time federal court seat in Youngstown.
Judge Pearson, who served as a federal magistrate based in Akron since August 2008, was confirmed by the U.S. Senate by a 56-39 vote Dec. 21, 2010. Some of those voting against her expressed concerns about her animal-rights views.
Steven M. Dettelbach, U.S. attorney for the Northern District of Ohio, who has worked with Judge Pearson, joked that she's a "dog lover," which apparently is a "problem for some members of the Senate."
U.S. Rep. Marcia Fudge of Warrensville Heights, D-11th, a friend of Judge Pearson's, said, "It took [the Senate] a long time, but they got it right. I don't know why it took them so long."
Fudge said Judge Pearson is a "role model to young women."
Numerous speakers at Friday's ceremony thanked Brown for his support of Judge Pearson's successful appointment, including the judge herself.
The judge said her appointment wouldn't have happened if Brown hadn't stood "behind me with dogged determination."
Brown swore in Judge Pearson.
"The people of Ohio have yet another reason to be proud," Brown said. "The investiture of Judge Pearson to the U.S. District Court means that we can continue working toward a more just society. Her background as a prosecutor, private- practice attorney, certified public accountant and magistrate makes Judge Pearson uniquely qualified to serve as a U.S. district judge."
Judge Pearson lives in Solon but says she plans to relocate to the Mahoning Valley shortly.