Plane crash in Ohio kills 2 NJ residents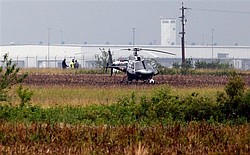 AP

Photo
An Ohio Highway Patrol helicopter prepares to take off after landing near a double fatal air crash at the Rickenbacker Airport, Sunday, June 19, 2011. (AP Photo/Columbus Dispatch, Jeff Hinckley)
Associated Press
COLUMBUS
Two New Jersey residents died when a small plane crashed into a cornfield and caught fire near the end of a runway at a central Ohio airport, authorities said Sunday.
The single-engine Cirrus CR22 was leaving Rickenbacker International Airport in Columbus for a trip to New Jersey when it crashed shortly before 9 a.m., destroying the aircraft and killing both people on board.
The Ohio State Highway Patrol identified the pair as pilot Viswanathan Rajaraman, 54, and passenger Mary Sundaram, 50, both of Franklin Lakes, N.J. Troopers said Rajaraman was a licensed pilot.
The two had arrived in Columbus on Friday, but it wasn't clear why they were in town, troopers said. They had flown in after visiting a daughter in Washington D.C., and they had refueled before attempting to take off Sunday morning, Lt. Gary Matthews told The Columbus Dispatch.
The plane was registered to a Franklin Lakes company called Buds Aviation, according to Federal Aviation Administration records. The company appeared to have no publicly listed phone number.
Investigators were trying to determine what caused the crash. The FAA was sending workers to the scene, but the National Transportation Safety Board will lead the investigation because the crash was fatal, FAA regional spokesman Tony Molinaro said.
The airport closed briefly after the crash but had reopened by afternoon.