Niles Scouts think pink to raise funds for trip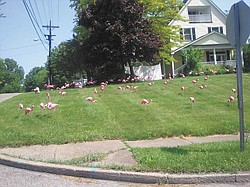 Photo
When dawn came to the house of U.S. Rep. Tim Ryan, D-17th, of Niles, recently, this entire flock of 100 flamingoes was gathered in his yard. The "flocking" is part of a fundraiser by Niles Boy Scout Troop 31.
NILES
Boy Scout Troop 31 of Niles proves it's in the pink as it celebrates its 90th year of service in the community.
The troop and its Parents Club have teamed up to provide a new fundraiser, called "flocking." Many have noticed but may not understand why some homes have dozens of flamingoes scattered throughout their yards.
The fundraiser works like this: A friend, neighbor, co-worker or family member asks the troop to help play a joke on a recipient.
For a small fee, troop members and the Parent Club place a flock of fake flamingoes in the yard of the recipient. The recipient then chooses another person to receive a flocking.
For each placement and removal of the flocks, the troop requests a small fee. The troop benefits from the fundraising event.
The 12 boys, along with the Parents Club, are working to assist their families in reducing the cost of Summer Camp, which stands at $285 per boy. They want to attend camp at the end of July.
The goal is for all 12 Scouts to be able to attend summer camp, which is important to their development as Scouts and as productive members of the community.
If you would like to request a flocking, would like more information or would just like to assist, call the flocking hotline at 330-941-0036.