Kipnis comes through for Tribe with game-winning hit in ninth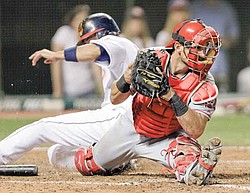 Photo
Los Angeles Angels catcher Jeff Mathis catches the throw to force the Cleveland Indians' Orlando Cabrera out at the plate in the ninth inning of Monday's baseball game in Cleveland. One batter later, Jason Kipnis drove in the winning run for the Tribe with his fi rst major league hit. The final score was Cleveland 3, Los Angeles 2.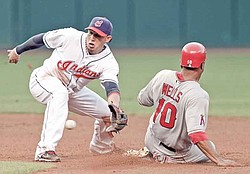 ASSOCIATED PRESS

Photo
Los Angeles Angels' Vernon Wells (10) steals second base as Cleveland Indians shortstop Asdrubal Cabrera takes a throw in the fourth inning of a baseball game Monday, July 25, 2011, in Cleveland. (AP Photo/Mark Duncan)
Associated Press
CLEVELAND
The Cleveland Indians' slogan throughout a season of improbable comeback wins has been "What If?"
Rookie Jason Kipnis added a new twist Monday night: "Why not?"
That's what Kipnis thought as he came to bat with the bases loaded and two outs in the ninth inning, before delivering his first career hit to give Cleveland a 3-2 victory over the Los Angeles Angels.
"That was so cool," Kipnis said after hitting a 1-0 pitch from Hisanori Takahashi between first and second base to give the Indians their 11th last at-bat home win and break a four-game losing streak.
Kipnis was well aware he was 0 for 5 since being called up Friday and really wanted a hit.
"I actually thought, 'Why not now? I might as well do it,' "he said.
Kipnis was mobbed by teammates as the club's latest late-inning hero. First base coach Sandy Alomar Jr., gave the ball to the 24-year-old after retrieving it from a fan when Angels right fielder Torii Hunter tossed it into the crowd.
"I'm very appreciative of that," Kipnis said. "I'm going to keep this one a long time."
Indians manager Manny Acta will savor the much-needed victory awhile, too.
"This is a good way to break a little losing streak," Acta said. "We showed a lot of heart and he couldn't pick a better spot for his first hit in the big leagues."
Tony Sipp (5-2) pitched a scoreless ninth for the win after Bobby Abreu's two-run homer off Vinnie Pestano put the Angels ahead 2-1 in the eighth.
Angels closer Jordan Walden then blew his seventh save in 30 tries.
Michael Brantley opened the ninth with a line single to left and stole second — getting Kipnis to think.
"I mapped out what had to happen to get me up there or just be cheering," Kipnis said. "And that was bases loaded, two outs."
After Walden struck out Asdrubal Cabrera on a 3-2 pitch clocked at 98 mph, Travis Hafner drove the first pitch he saw to left-center, easily scoring Brantley to tie it at 2.
"Great at-bat there by Michael and then by Hafner," Acta said. "These guys believe when we get to the ninth and are close we can win. I'm just glad the lineup turned over to put those guys in position to do it."
Walden then walked Carlos Santana and hit Jack Hannahan in the right ankle with an 0-2 pitch to load the bases.
Angels manager Mike Scioscia brought in Takahashi to pitch and summoned Hunter from right to play as an extra infielder between first and second base.
"You have to defend what you can in that situation," Scioscia said. "Any fly ball is going to beat you."
The ploy worked when Travis Buck tapped a one-hopper to Hunter, who threw home for the forceout.
"I was thinking, 'Gee, we can't even hit a ball over an outfielder playing the infield,'" Acta said. "But we pitched great one more time. When you pitch well, you have a chance."
Angels starter Dan Haren struck out 10 over 72/3 innings and gave up one run and three hits, walking two.