IOC confident in security after Norway attack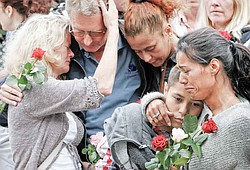 ASSOCIATED PRESS

Photo
People comfort each other outside Oslo City Hall as they participate in a "rose march" in memory of the victims of Friday's bomb attack and shooting massacre Monday July 25, 2011. Anders Behring Breivik has admitted bombing Norway's capital and opening fire on a political youth group retreat, but he entered a plea of not guilty, saying he wanted to save Europe from Muslim immigration. Police announced Monday that they had dramatically overcounted the number of people slain in a shooting spree at a political youth group's island retreat and were lowering the confirmed death toll from 86 to 68. (AP Photo/Erlend Aas, Scanpix Norway)
Associated Press
LONDON
IOC president Jacques Rogge is confident that police intelligence work will help avert any attack on the London Olympics similar to the bombing and shooting massacre in Norway.
Rogge said information-sharing among security agencies from different countries will be crucial in providing a safe Olympics in 2012.
"It's not just a fence and a wall and the armed patrol," Rogge said. "It's much more than that. It's intelligence."
Rogge said British security officials will have taken into account the type of attacks that shook Norway, where a man set off a car bomb in Oslo on Friday and opened fire at a youth camp, killing at least 76 people.
"This is something that has happened in other countries," the International Olympic Committee leader said. "You had Timothy McVeigh in the United States. You have now this tragic incident. I'm quite sure that the security forces have calculated that in their preparations."
British Olympics Minister Hugh Robertson said the U.K. had already prepared for attacks by "lone wolves" but would re-examine its security plans in the wake of the twin attacks.
"Clearly where there are lessons to be learned from Norway we will learn them," he said.
The British government has been planning for the national terror threat to be classified as "severe" during the Olympics, meaning an attempted attack is highly likely. A day after London was awarded the games in 2005, homegrown suicide bombers attacked London's transport network, killing 52 people.
Rogge said Olympic security is more than just protecting buildings and targets against bombings.
"It's not just the physical security of the athlete in the Olympic village," he said. "It's not just sweeping a bus with mirrors under the floor. There's also the surveillance on the Internet, and the collaboration between different agencies of different countries. There is a lot of intelligence going on."
Security has been a critical concern for the Olympics since the killing of 11 Israeli athletes and coaches at the 1972 Munich Games by Palestinian gunmen.