Historic Ohio lighthouse up for auction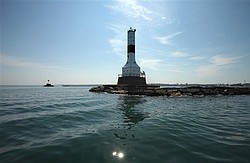 AP

Photo
In this photo taken Wednesday, July 20, 2011, the lighthouse standing at the entrance to Conneaut Harbor is shown in Conneaut, Ohio. The Coast Guard conducted a tour for interested parties in preparation for the auctioning of the property. (AP Photo/The Plain Dealer, Thomas Ondrey)
Associated Press
CONNEAUT, Ohio
An Ohio Lake Erie lighthouse is on the auction block for anyone looking for a distinctive property that includes a lamp visible for 11 miles.
Bids for the 1936 lighthouse in Conneaut in Ohio's far northeast corner must be in by Wednesday, according to the U.S. General Services Administration that is auctioning the property on its website.
The agency has been trying to find stewards or buyers for more than 200 lighthouses along America's coastline since Congress enacted the National Historical Lighthouse Preservation Act in 2000. So far, 76 have been transferred or sold.
There are some people who just want to say they own a lighthouse for the novelty of it, said John Smith, a deputy assistant commissioner for real property, utilization and disposal at GSA.
"But there's also a lot of people who are really interested in the historical aspects," Smith told The Plain Dealer of Cleveland.
The minimum bid for the former Conneaut Harbor West Breakwater Light, with its four floors and 20 round windows, is $5,000. As of Monday evening, the highest of two bids submitted was $7,000, GSA spokeswoman Gail Montenegro told The Associated Press.
A Conneaut Port Authority member says that agency may be interested in bidding, The Star-Beacon of Ashtabula reported.
The authority was prepared to accept the lighthouse at no cost last year, but found there were too many federal regulations attached to the gift, member Thomas Belnap said. He said buyers face fewer regulations.
"We'll discuss what levels of dollars we would want to spend, if any to acquire the lighthouse," he said.
The lighthouses first must be offered free to state or local entities, nonprofits, historic preservation groups and community-development organizations. Any agency receiving a lighthouse as a gift must keep it open to the public for recreational, educational and cultural purposes. The lighthouses go up for auction if no stewards are found.
The agency was asked to dispose of many of the excess lighthouses no longer needed due to advances in navigation technology.
Twenty-nine of the 76 lighthouses that have been disposed of went to nonprofits, and 25 went to federal, state or local governments. Private buyers purchased the other 22, with sale prices ranging from $10,000 to $260,000, Montenegro said.