After disappointing 2010, Boardman duo achieve state dreams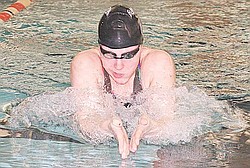 Special to the Vindicator

Photo
Boardman's Ashley Aldan practices at YSU Monday afternoon.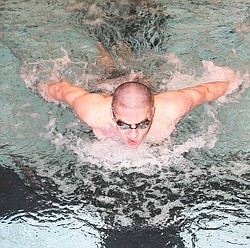 Special to the Vindicator

Photo
Boardman's Ryan Bailey practices at YSU Monday afternoon.
By Joe Scalzo
YOUNGSTOWN
Boardman senior Ashley Aldan can bend her back at a 90-degree angle — both ways — but often spends her nights doing her calculus homework in a plank position.
She has a syndrome called hypermobility, which allows her to do things that normal people can't but often keeps her from doing things that normal people can.
She says swimming makes her crazy, yet it's one of the few things that keep her sane.
On the surface, none of this makes any sense. But like pretty much anything in swimming, you can't just look at the surface. You have to go deeper than that.
Aldan is one of the best female swimmers in Boardman history but for much of her career, she's been sidelined by a host of injuries that all stem from hypermobility, a genetic abnormality that allows her to bend her joints much farther than normal.
"I can twist and bend in ways that would make other people, like, vomit," she said, smiling. "I'm not gonna lie — it's pretty gross."
She was pretty much normal until age 11, when she started having problems. Doctors diagnosed her with a skeletal disorder called Scheuermann's Disease where the vertebrae grow unevenly. She has spondylosis in her back, a degenerative joint condition. She has tissue buildup in her knee and swollen ribs and, worst of all, a stubbornness that keeps her from listening to doctors who tell her she needs to give up swimming.
"Every single time I went to a doctor they told me, 'Ashley, you're never going to back into a pool again. You're done,'" she said. "I just kept switching doctors until I found one that said, 'Hey, you can swim but you have to do limited practices.'"
For much of this winter, she hasn't been able to swim a full week of practice. But after missing the state meet last year, she told herself she would do anything she could to make it to Canton, even though the constant workouts and honors classwork often leave her stressed.
"I think my coaches and teammates keep me sane but the schedule keeps me insane," she said. "It's a nice balance."
Fortunately, this story has a happy ending. Aldan qualified for this weekend's Division I meet in the 100-yard breaststroke. She's one of two Spartans to qualify in an individual event — sophomore Ryan Bailey is the other — and will be making her third state trip after qualifying in individual events as a freshman and a sophomore.
"Last year was a huge disappointment when I didn't make it and my whole entire goal this year was to get back," said Aldan, who plans to swim at Edinboro, where she'll major in forensic anthropology and linguistics. "I didn't care what it was in or who I went with. I just wanted to get back."
Bailey felt the same way. After missing out on Canton last winter — he qualified for the 2010 district meet in two individual events and two relays but didn't finish higher than ninth in any of them — Bailey took about 24 hours to mope, then used the ensuing days to hope.
"I was just determined to start working again to get over it," he said. "I worked really hard and my first meet this season was very good for me. Ever since then, I've had some really fast times and then at sectionals I continued to drop time and go faster.
"It kept going down last week [at districts] and hopefully this week when I'm fully rested and shaved down, I'll swim even faster."
Bailey qualified in four events — two relays, the 100 fly and the 100 breast — and said his big-meet experience from this season, and the club season, have helped his confidence.
"People are more surprised that I'm here than I am," he said. "This is something that I've worked for and now I just have to race."