Coming together: Pantry has been distributing food for more than 25 years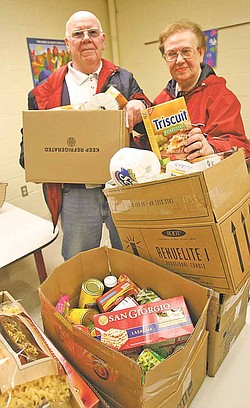 The Vindicator (Youngstown)

Photo
Joe and Ruth Hayes, who helped found the food pantry in 1985, pack food boxes for distribution. The pantry is located in St. Thomas the Apostle Catholic Church on Warren-Sharon Road in Vienna.
The Vindicator (Youngstown)

Photo
Bob Rose, left, and Gerald Rassega, load boxes of food from the Vienna Ecumenical Food Pantry on Warren-Sharon Road into the back of a car. The pantry is operated by three churches — Vienna United Methodist, Vienna Presbyterian, and St. Thomas the Apostle Catholic Church, formerly St. Vincent de Paul Church.
VIENNA
The Vienna Ecumenical Food Pantry has been distributing food to needy residents of Fowler and Vienna townships for more than a quarter of a century.
Three Vienna Center churches — Vienna United Methodist, Vienna Presbyterian and St. Vincent DePaul Catholic, now St. Thomas the Apostle — came together to further their community service mission helping the less fortunate by forming a food pantry, said Bill Haynie, co-director of the food pantry along with Helen McKenzie, both of Vienna.
According to a history of the food pantry compiled by Evelyn Butler, 10 families representing 26 people were registered and cleared by the Salvation Army as eligible to receive help at the first food distribution on July 30, 1985.
Today, said Haynie, 48 families representing 130 people living in Vienna and Fowler, the food pantry's service area, are registered.
Diane Daykin of Vienna has used the food pantry since losing her job of 24 years because of health reasons.
"The volunteers at the Vienna Food Pantry are wonderful. They are friendly and go out of their way to help you. I don't know how I'd make it on what I get without help," said Daykin, who is on disability through the Ohio Public Employees Retirement System.
Bruce and Grayce Bequeath served as directors from 1985 to 2001. Other pantry founders are Joe and Ruth Hayes and Evelyn Butler.
The Vienna Ecumenical Food Pantry gets much of its food from Second Harvest Food Bank of the Mahoning Valley. The Vienna pantry is one of Second Harvest's 153 member agencies in its service area of Columbiana, Mahoning and Trumbull counties.
"Last year, there were over 670,000 visits to food pantries and soup kitchens served by the food bank," said Michael Iberis, executive director of Second Harvest.
"This could not have been accomplished without the support of thousands of people that give financially, donate food, give of their time like those at the Vienna food bank, and many who do all of these," Iberis said.
Haynie said the Vienna pantry also gets a lot of help from community organizations, such as Mathews schools which conduct annual food drives; Vienna Neighborhood Block Watch, which solicits cash donations; church youth groups that conduct various activities to raise money; and Vienna AMVETS and Knights of Columbus Lodge.
Haynie said the Vienna pantry has a core of volunteers who sort and shelve food and pack food packets the day before the distribution as well as helping with the distribution. The pantry distributes food from 9 to 11 a.m. the third Tuesday of each month at St. Thomas the Apostle Catholic Church at 4453 Warren-Sharon Road.
"It makes us feel good, but it is also an important part of our churches' missions to help care for the less fortunate ... to feed the neediest of our people," Haynie added.