Local Delta chapter prepares for tribute, 60th anniversary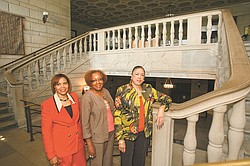 Photo
Robert K. Yosay | The Vindicator: Delta Sigma Theta Sorority's Youngstown Alumnae chapter will sponsor its annual Tribute to Black Excellence. The event will take place Sept. 23 at Stambaugh Auditorium in Youngstown. From left are members Susan Moorer, parliamentarian, Michele Dotson, Ways and Means Committee chairwoman, and Germaine Bennett.
YOUNGSTOWN
Members of Delta Sigma Theta Sorority Inc. Youngstown Alumnae are sponsoring their annual Tribute to Black Excellence. The event will also mark the 60th anniversary of the group, which provides services and programs in this and surrounding communities.
The tribute will take place Sept. 23 at Stambaugh Auditorium, 1000 Fifth Ave. Social hour will begin at 6 p.m. with dinner at 7 p.m. Donation is $50 per person; attire is semiformal. Also included will be a live band, auction (cash only) and a cash bar.
To purchase tickets, call 330-788-4706. The local Delta chapter is requesting ads and benefactors. To place an ad or be a benefactor, call 330-782-3772, 330-509-4629 or 330-519-7146.
Proceeds from the event will benefit the Mary McLeod Bethune Scholarship Fund, among other projects.
Since the chapter's inception, the Youngstown group has awarded more than a quarter of a million dollars to students in the Mahoning Valley.
The sorority's Tribute to Black Excellence honors individuals and/or groups who have achieved significant milestones or made noteworthy contributions in the community.
The 2011 honorees are: Arlette Gatewood, local community leader; William Blake, director of Student Diversity Programs at Youngstown State University; and charter members of Youngstown's Delta Lambda Chapter of Delta Sigma Theta Sorority.
The establishment of a chapter of Delta in the Youngstown area was originally envisioned by seven charter members: Charlene Alexander, Margaret Christman, Catherine C. Allison, Catherine Diehl, Mildred Patterson, Elenora Quarles and Doris Wilson.
The first inductees for the new chapter were Betty Green Armstrong, Kathryn Johnson, Johnnie Mae Davis Stonework and Anne Walker Tate.
On May 19, 1951, these four women were initiated into Delta Lambda Chapter and formally established.
In May 1975, Delta Lambda officially became Youngstown Alumnae. The chapter remains committed to public service.
Newly elected officers for the coming year are: Gwen Montgomery, president; Eboni Williams, 1st vice president; Sharella Thomas, 2nd vice president; Dr. Michelle McCollin, recording secretary; Marcia Haire-Ellis, corresponding secretary; Aulanna Armour, treasurer; Dr. Sherri Lovelace-Cameron, financial secretary; Susan Moorer, parliamentarian; and Dr. Gloria Tribble, chaplain. Michele Dotson is chairwoman of the Ways and Means Committee.
More like this from vindyarchives.com