O'Neill gets Walk of Fame star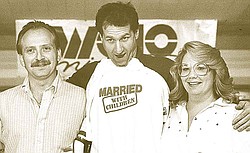 Photo
Thom and Jill Skovira of Struthers won a 'Spend a Day with Al Bundy" contest at North Side Lanes. Ed O'Neill, center, joined the party to promote his new show, "Married with Children," in 1988.
CAREER HIGHLIGHTS
Ed O'Neill grew up at 268 Crandall Ave. on Youngstown's North Side. He played football for Ursuline High, went on to play for Youngstown State and had a tryout with the Pittsburgh Steelers. His acting career began after he was cut from the team in 1969.
AWARDS
Aug. 30, 2011: Will be honored with a star on the Hollywood Walk of Fame.
July 14, 2011: Received best supporting actor Emmy Award nomination for "Modern Family."
Jan. 30, 2011: Won a Screen Actors Guild Award for Outstanding Performance by an Ensemble in a Comedy Series for "Modern Family."
Dec. 16, 2010: Nominated for SAG Award for Outstanding Performance by a Male Actor for "Modern Family."
Dec. 17, 2009: Nominated for a Screen Actors Guild Award for "Modern Family."
1992 and 1993: Nominated twice for Golden Globe Award for best performance by an actor in a TV series for his role of Al Bundy on Fox's "Married with Children."
TV SERIES
"Modern Family" (2009-11): Third season begins next month.
"John from Cincinnati (2007)
"Dragnet" (2003-04): Starred as Lt. Joe Friday.
"Married with Children" (1987-97)
"Miami Vice" (1984): O'Neill appeared in the first episode.
FILMS
"The Bone Collector" (1999): With Denzel Washington.
"Little Giants" (1994): With Rick Moranis.
"Dutch" (1991): John Hughes wrote the movie.
"Popeye Doyle" (1986): Made-for-TV movie starring O'Neill in the title role.
Youngstown native Ed O'Neill is having a banner year
By GUY D'ASTOLFO
The accolades keep coming for actor Ed O'Neill.
The Youngstown native garnered an Emmy Award nomination last month for best supporting actor for his role on the hit ABC comedy "Modern Family."
On Aug. 30, he will be honored with a star on the Hollywood Walk of Fame for his career.
"It's been an interesting couple of weeks," he said in a phone interview from his California home.
It took O'Neill a while to warm up to the Walk of Fame honor.
"One day my manager called and said, 'they want to give you a star,' and I said, 'Why?'
"I almost turned it down," said O'Neill. "I never liked the idea of it. It's bizarre — names on a sidewalk. People can spit on it. I thought it was kind of weird. But I mentioned it to my daughter, who is 11, and she said, 'Daddy, you have to get your star. If you don't, that means you're crazy.' That did it."
After the idea sank in, O'Neill realized what an honor it is.
"I was actually very humbled, once I got over the initial shock and realized it's something to be proud of," said the Ursuline High graduate. "It's also great for Youngstown."
To deliver his Walk of Fame induction speeches, O'Neill has enlisted his television wives from his two most-popular TV series: Katey Sagal from "Married With Children" and Sofia Vergara from "Modern Family."
The Hollywood Walk of Fame, at Hollywood Boulevard and Vine Street in Los Angeles, honors show-business greats. The star-shaped plaques embedded in the sidewalk have become a landmark and a top tourism attraction.
Started in 1958, the Walk now has about 2,400 stars for film, music and stage celebrities, and about 20 are added each year, with separate ceremonies for each. Selections are made by a committee of the Hollywood Chamber of Commerce.
In addition to O'Neill, the Walk's list of 2011 enrollees includes Oprah Winfrey, Neil Patrick Harris, Bruce Dern, Diane Ladd, Laura Dern, Penelope Cruz, Ed Harris, The Muppets, Kenny Ortega, Gwyneth Paltrow, Ridley Scott, Sissy Spacek, Donald Sutherland, Reese Witherspoon, Danny DeVito, Tina Fey, Simon Fuller, John Langley, John Wells, Melissa Etheridge, Los Tigres Del Norte, Rascal Flatts, The Go-Go's, Slash, will.i.am and Bebe and Cece Winans. Posthumous stars were awarded to Louis and Holly Prima.
Other Youngstowners who have been enshrined in the Walk of Fame include singer Maureen McGovern and actor Joe Flynn, whose most famous role was Cmdr. Binghamton on the 1960s sitcom "McHale's Navy."
O'Neill said that when he was a child, Flynn lived in the apartment above his family in a house on Youngstown's North Side. "He was related to me," said O'Neill, adding that he and Flynn are likely the only two Walk of Fame honorees who lived in the same house before starting their acting careers.
Flynn died in a swimming pool drowning accident in 1974 at age 49.
In addition to "Modern Family" and the '80s Fox comedy "Married With Children," which ran for 11 years, O'Neill starred in the TV series "Dragnet," "Big Apple" and "John from Cincinnati." His long list of film credits includes "Dutch," "Blue Chips," "Little Giants" and "Prefontaine."
More like this from vindyarchives.com