Nursing students to be honored at YWOBNA scholarship brunch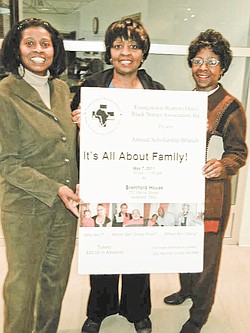 Photo
Displaying a poster showing the important facts about a brunch to be sponsored by the Youngstown-Warren (Ohio) Black Nurses Association are, from left, Lynn Veal, president, and Carole Dubose and Wayna Hightower, scholarship committee members. Not pictured are Brenda Averhart, scholarship chairwoman, and Ester McCain and Cynthia McWilson, media representatives.
HUBBARD
Youngstown-Warren (Ohio) Black Nurses Association will sponsor an annual scholarship brunch from 10 a.m. to 1:30 p.m. May 7 at the Brentford House, 737 Myron St.
Honored at the event will be three nursing students who will be recipients of scholarships awarded by the association.
Those receiving scholarships and their schools follow:
Shana Smith of Mercy College of Northwest Ohio, $1,000.
Lakeesha Harris of Mercy College of Northwest Ohio, $500.
Jennifer Mitchell of Youngstown State University, $500.
The theme for the brunch, "It's All About Family," is meant to emphasize the importance of knowing family health histories. It is imperative to know if there is a history of cardiac disease, hypertension, diabetes or obesity or cholesterol issues in the family to receive the proper diagnosis and treat ment of illnesses.
The speakers will be Dr. Keisha Robinson and Judy Williams, and the focus will be on such topics as "Who Am I?" "Whom Do I Come From?" and "Where Am I Going?"
The YWOBNA has scholarship assistance available for those who are in an accredited nursing program. The applicant must be a black resident of Mahoning or Trumbull County and have at least a 3.0 grade point average. Each applicant will be evaluated on an individual basis.