Donofrios celebrate 68th anniversary
LOWELLVILLE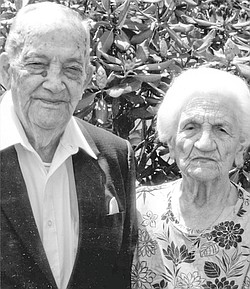 Photo
Mr. and Mrs. Anthony Donofrio
Mr. and Mrs. Anthony Donofrio will observe the 68th anniversary of their wedding Thursday.
Their family includes Anthony and Sally Donofrio of Sarasota, Fla.; Robert and Georgette Donofrio of Poland; John and Diane Donofrio of Petersburg; eight grandchildren; and three great-grandchildren, with one on the way.
The former Lucy Lellio and Mr. Donofrio were married June 3, 1942, at Holy Rosary Church in Lowellville. They are members of the church.
Mrs. Donofrio, a homemaker, is also a member of Our Lady of Mount Carmel and the Senior Citizens.
Mr. Donofrio retired in 1959 as a craneman at Sharon Steel in Lowellville, and later retired in 1976 as a supervisor at Robco Products in Niles. He served in the Army in World War II and was part of the D-Day invasion of France at the Omaha Beach Head in Normandy. He received a Purple Heart with five Bronze Stars. He is also a member of the Mount Carmel Society, St. Lucy in Hillsville and the VFW in Struthers.