Backers sure Traficant will get on ballot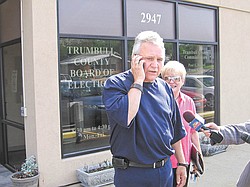 Photo
Former U.S. Rep. James A. Traficant Jr. with longtime friend and former congressional aide Linda Kovachik.
By PETER H. MILLIKEN
YOUNGSTOWN
Supporters of Jim Traficant for Congress are encouraged now that he appears to be just 103 petition signatures short of what he needs for an independent candidacy in the 17th District and is closing the gap as signatures are re-evaluated.
Traficant's campaign coordinator, Linda Kovachik of Boardman, said she is confident Traficant will qualify as an independent candidate on the November ballot.
"We found some errors down here in Mahoning County. We found some errors in Summit County. ... I think we'll be on the ballot," Kovachik said after a petition-review session with Mahoning County elections officials.
Traficant needs 2,199 valid signatures from registered voters residing in the district, which includes all of Trumbull County and parts of Mahoning, Portage and Summit counties.
That number is 1 percent of the votes cast in the most recent general election for governor, in November 2006.
On Monday and Tuesday, Traficant campaign leaders visited the district's county boards of elections, where elections officials re-examined petition signatures. In the re-examination Tuesday afternoon in Mahoning County, Traficant picked up five new valid signatures.
Earlier this month, Traficant submitted a total of 3,138 signatures district-wide.
Of the 1,931 names on Trumbull petitions, 489 were ruled invalid. In Mahoning County, 471 of 1,074 signatures were disqualified, and in Portage and Summit counties, 86 of 133 petition signatures were disqualified.
Reasons for disqualification of signatures included living in the wrong congressional district, not being a registered voter, failing to list a valid address, or providing an illegible signature, said Joyce Kale-Pesta, Mahoning County Board of Elections deputy director.
Traficant's major problem appears to be that his petition circulators failed to ascertain which petition signers actually reside in the 17th District and that many signers weren't sure which congressional district they reside in, Kale-Pesta said.
"Here in Mahoning County, many of them resided in the 6th District and not the 17th," Kale-Pesta said.
In precincts that are divided between two congressional districts or in boundary areas between districts, voters may be unsure which district they reside in, she said.
Since Trumbull County contains the largest share of voters in the district, its board of elections will decide whether Traficant qualifies as an independent candidate, Kale-Pesta said.
If they feel shortchanged on signatures, Kovachik said she believes Traficant campaign leaders will seek from the Ohio Supreme Court a writ of mandamus to compel elections officials to put Traficant on the ballot as an independent candidate.
Time is of the essence in resolving the Traficant candidacy question because ballots for military personnel serving overseas must be distributed by Aug. 24, Kale-Pesta said.
More like this from vindyarchives.com