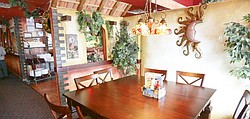 Photo

Photo
PROUD OWNER: Israel Zambrano stands near a rooster in his Boardman restaurant, Los Gallos. He named the restaurant after his nickname, which means rooster in English.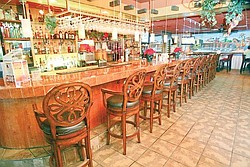 Photo
BAR SCENE: Business at Los Gallos has risen dramatically since the restaurant added a bar.
The Mexican restaurant is expanding with another location and a banquet center.
By Don Shilling
Israel Zambrano, owner of Los Gallos Restaurant in Boardman, has a message for the people of the Mahoning Valley, but it's hard for him to deliver it.
"My English is not good," the 32-year-old native of Mexico said in English that's accented but understandable.
"I never had the opportunity to go to school, so I don't have the words to express how I feel."
Zambano pauses and then talks about having to work as a boy instead of going to school.
His parents brought their six sons to this country 22 years ago because his father, Samuel, was offered a job making suits for a company in San Diego. His father was a tailor and a farmer in Mexico, but the thought of a steady job in the States was attractive.
The job didn't work out, however, so he went to work in a restaurant. Soon, the family joined him at the restaurant to make ends meet.
As immigrants on a visa, the children were required to attend school three days a week for two hours.
Zambrano didn't learn much English at the time, but through his parents, he learned something important that has served him well: the value of hard work.
He opened his restaurant at 685 Boardman-Canfield Road in 2004 and later expanded with another one in Bedford in suburban Cleveland.
He also is about to open a banquet center next to his Boardman location and a third restaurant at Market Street and Western Reserve Road in Beaver Township.
Sitting under the Mexican artwork in his Boardman restaurant, Zambrano slowly shakes his head. He now is ready to express how he feels about the local residents who have allowed his business to grow.
"It brings tears to my eyes. To me, I feel that Youngstown is the best part of the United States," he said.
Zambrano said he didn't know anything about Youngstown when he first visited in 2003. Now, he has a circle of friends, loyal customers and a Boardman home for his family that includes his wife, Hilda, and two children.
"I feel like I do for my hometown in Mexico. I have a lot of friends here. The people are very, very nice," he said.
Zambrano came to Youngstown with no plans to leave his family business. Zambrano's father had taken the family to Virginia, where he joined with friends in opening a restaurant. The Zambranos eventually opened 13 restaurants in Virginia, and Israel became general manager.
But in visiting Youngstown, Zambrano noticed an opportunity for a Mexican restaurant in Boardman.
In 2004, Zambrano brought four of the cooks from the Virginia restaurants, some family recipes and opened Los Gallos, which is his nickname, "The Rooster."
He said about 80 percent of the menu items are authentic Mexican dishes, but he has added some less-spicy meals for those who aren't used to the flavors from south of the border.
The first three years were a struggle as the 220-seat restaurant built up its cash flow and clientele and tried to draw customers without a liquor license.
Zambrano said he took over a location that used to be a Chinese restaurant, and he didn't have enough money to make all of his planned renovations at once.
"It had a Mexican-Chinese look at first," he said.
But now, all of the renovations are done, and the restaurant features several murals of Mexico, where Zambrano visits with his wife and children once or twice a year.
"To run a restaurant with no liquor license and survive, you must be doing something right," Zambrano said.
In 2007, voters approved a liquor license, and the restaurant now has a full-service bar. Business has tripled since then, Zambrano said.
Business has been so good that Zambrano is ready to expand.
He is about ready to open a banquet center next door that will seat 120. The restaurant can hold small parties of up to 50 people in a back room, but Zambrano found that he was turning away many larger events. He also said the banquet center will give people privacy for their events, which include wedding rehearsal dinners, birthday parties and Christmas parties.
He said some people have questioned his decision to open the Beaver Township restaurant because it isn't far from his current location.
He said, however, that he thinks the new restaurant will attract more people from the North Lima and Columbiana areas. He also said it will be more of a sports bar, with more televisions and later hours.
He said he plans to spend six months cooking and overseeing operations at the new restaurant, where his wife also will be a manager.
Then, he will begin looking for another location in Mahoning and Trumbull counties. Eventually, he hopes to open three more restaurants in the region.
"It's like an addiction to work and business. I love seeing how the people respond," he said.
Zambrano, who became an American citizen in 2007, said he also has another goal as he considers the future.
He said he has learned English from his friends and from dealing with vendors and customers, but he would like to take some time off from the business and go to school so he can learn how to speak and write the language better.
"Then I could be 100 percent American," he said.
shilling@vindy.com