The Kaloskys celebrate 70th anniversary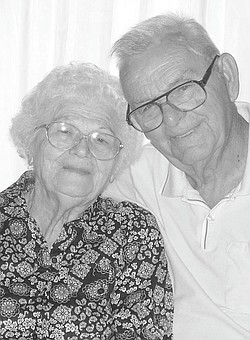 Photo
Mr. and Mrs. Daniel Kalosky
YOUNGSTOWN
Mr. and Mrs. Daniel Kalosky of Youngstown celebrated their 70th wedding anniversary and her 90th birthday on Aug. 15 at Our Lady of Hungary Church, where they were married on Aug. 12, 1940. The Rev. Joseph Rudjak officiated at the noon Mass.
Afterward they were honored by family and friends at a dinner at the Avalon Inn Chophouse in Warren.
The couple have six children, Elizabeth Jean (Buddy) Fares, Theresa (Ron) Petrosky, Mary Ann (Bill) Kolosi, Juliann (Tom) Sisler, Daniel (Yliana) Kalosky and Paul (Karen) Kalosky. There are 15 grandchildren and 17 great-grandchildren in the family.
Mr. and Mrs. Kalosky are active in the church, where they have contributed much of their time to such fundraising activities as making Hungarian noodles, pastries, sausage, chicken paprikash and stuffed cabbage. They are members of the Altar and Rosary Confraternity, of which he is a past secretary. Both have been choir members, and he is still singing with the choir at the age of 92. He was honored for his 50-year dedication to St. Vincent de Paul Society, of which he was president for many years.
Mr. Kalosky enlisted in the Civilian Conservation Corps in Utah in 1938. He retired in 1975 as a tool and die maker with Commercial Shearing and Stamping Co. He was then employed five years as a machine shop instructor for the Schwab-Choffin Vocational School.
Mrs. Kalosky, the former Elizabeth Baranyi, was born in Vajdacska, Hungary, and came to Youngstown in1935 and to Russell Avenue, the same street where the Kalosky family lived.
More like this from vindyarchives.com