Black Nurses Association plans scholarship brunch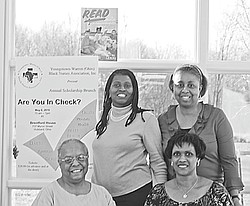 Photo
Members of the Youngstown Warren (Ohio) Black Nurses Association who are serving on the organization's scholarship committee are, standing from left, Lynn Veal, president, and Brenda Averhart, scholarship chairwoman, and, seated from left, Ester McCain and Cynthia McWilson, media representatives.
YOUNGSTOWN
The Youngstown Warren (Ohio) Black Nurses Association will have its annual scholarship brunch from 10 a.m. to 1:30 p.m. May 8 at the Brentford House in Hubbard.
The theme for the event will be "Are You in Check?" which will emphasize the importance of routine checks of blood pressure, blood glucose levels, weight and cholesterol. Guest speaker will be Gloria Spires, a nurse anesthetist at Southwoods Outpatient Center, who will elaborate on the importance of health checks and their impact on the surgical process.
Scholarship recipients for this year also will be honored. They are: Derreka K. Clinkscale ($1,000), Kent State University, and Lauren Renee Scott ($500) and Callie Rosemarie Howell ($500), both Mercy College.
Tickets for the brunch are $20 each, and reservations may be made by calling Lynn Veal, president, at (330) 788-8151.
YWOBNA Inc. is a nonprofit organization and an affiliate of the National Black Nurses Association Inc. of Silver Spring, Md. The organization is composed of registered nurses, licensed practical nurses and student nurses. Its primary goals are:
Educating the minority community about culturally specific diseases and prevention.
Collaborative projects with other health-care professionals and organizations.
Assisting during health screenings, health and career fairs, continuing-education seminars and other health-related projects.
Assisting seniors citizens by donating money to defray the cost of medications.
Supporting and encouraging minorities entering the nursing profession.