Skerkavich anniversary is celebrated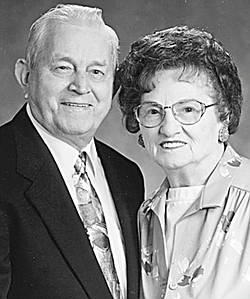 Photo
Mr. and Mrs. Ralph Skerkavich
YOUNGSTOWN
Mr. and Mrs. Ralph Skerkavich, 2937 Eddie St., attended a Mass at Holy Name Church and dinner at a restaurant on April 17 as they began the celebration of their 60th wedding anniversary.
Today they are being honored by invited guests during a reception given by their grandchildren at the home of a grandson.
Hosts for the dinner were their children, Loretta (Lyle) Frazer of Fountain Inn, S.C.; Rose Mary Wakefield of Youngstown; and Raymond (Karen) Skerkavich of Canfield, and their six grandchildren. The couple also have eight great-grandchildren.
The former Irene Francosky and Mr. Skerkavich were united in marriage on April 15, 1950, at St. Francis of Asissi Church in Youngstown. They are members of Holy Name Rosary Society.
Mr. Skerkavich served with the U.S. Army during World War II. He retired in 1980 as a locomotive engineer with LTV Steel. His wife is a homemaker.