Jury will decide on Grenga compensation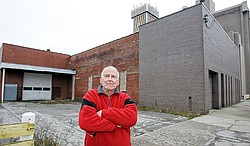 Photo
The jurors heard of a two-fold difference in appraisals of the property.
YOUNGSTOWN — The city's lawyer told a jury it should award Joseph Grenga $181,000 for the building the city seized from him under eminent domain, but Grenga's lawyer said fair compensation would be at least $375,000.
The city's lawyer, Anthony J. Coyne of Cleveland, asked the jury to award the figure quoted by an appraiser hired by the city to evaluate the Grenga Machine and Welding Co. storage building at 128 W. Rayen Ave.
Grenga's lawyer, John F. Shultz of Boardman, asked for the higher figure quoted by an appraiser Grenga hired to evaluate the 102-year-old, 10,515-square-foot building, which is in the shadows of Youngstown State University.
The jury will hear testimony from the appraisers during the trial.
"You've got one job — to determine the fair market value," Coyne told the jurors in his opening statement Wednesday afternoon. "It's not a lottery ticket for Mr. Grenga," he told the jurors just after they returned from a visit that took them inside the building.
"Joe Grenga's not asking you to award him a lottery-type prize," Shultz told the jurors. Grenga wants "to make sure that he is fairly and adequately compensated for the property that he did not willingly give up," Shultz added.
The central location of the building enhances its value, Shultz argued. "Obviously, it's valuable to the City of Youngstown because they took it," he added.
The city seized Grenga's building to enable a northward extension of Hazel Street from its current terminus at Wood Street to Lincoln Avenue in conjunction with YSU's $34.3 million business-school building, for which construction began this spring. The city plans to demolish the former Grenga building by the end of this month.
The city deposited $205,000 in escrow with the court to buy the Grenga property, but Grenga rejected the city's offer to buy it for that sum.
Magistrate Dennis J. Sarisky of Mahoning County Common Pleas Court, who is presiding over the trial, told the lawyers the only issue before the jury in this case is the amount of compensation Grenga should receive for his property.
The principle of fair compensation when government seizes private property is rooted in the Bill of Rights. The Fifth Amendment to the U.S. Constitution says private property shall not "be taken for public use without just compensation.''