GM to discontinue Pontiac Vibe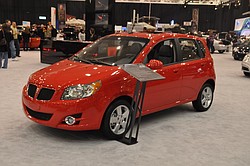 Photo
Pontiac Vibe at the 2009 Cleveland Auto Show
DETROIT (AP) — The Vibe is the latest Pontiac model to be officially killed by General Motors Corp. as the automaker moves to phase out the storied brand sometime next year.
GM said Thursday that it will stop making the small hatchback in August at a factory it jointly runs with Toyota Motor Corp. in Fremont, Calif.
The Detroit automaker, as part of its government-funded restructuring in bankruptcy protection, is shedding Pontiac, Hummer, Saab and Saturn as it tries to shrink itself to match a smaller market share and get more mileage out of its advertising dollars.
The Vibe, the same car as the Toyota Matrix, was not a huge seller for GM. Through May, the company sold only 11,395 Vibes, down 35 percent from the same period last year.
GM said in a statement that it is talking with Toyota about a replacement vehicle for the Fremont factory, known as New United Motor Manufacturing Inc., or NUMMI. The plant also makes the Toyota Corolla compact car and the Tacoma small pickup truck.
Toyota spokesman Mike Goss denied reports that Toyota would build the Prius, the nation's top-selling gas-electric hybrid, at the plant.
The Japanese automaker, he said, has built a new factory in Tupelo, Miss., to assemble the Prius, but is not equipping the plant for production until auto sales recover.
"We haven't changed our minds. We still plan to build the Prius in Mississippi when the market dictates," Goss said.