Mosley scores 30 to lead McDonald over YCS, 61-58
Bristol vs Western Reserve girls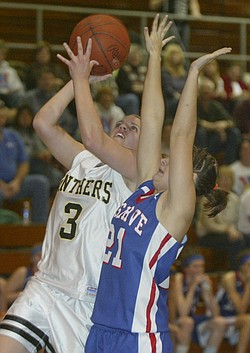 Gallery
Bristol vs Western Reserve girls
McDonald vs Youngstown Christian Girls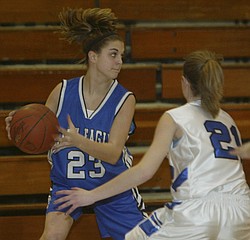 Gallery
McDonald vs Youngstown Christian Girls
By Ryan Jones
Bristol edged Western Reserve, 49-48, in Thursday's other sectional final game.
HUBBARD — Joh'Vonnie Mosley got some good advice from her dad before Thursday's Division IV sectional final against Youngstown Christian.
"He told me not to miss any easy baskets," she said.
The 5-foot-6 senior didn't miss often as she pumped in 30 points on 13-of-23 shooting and added 11 rebounds to propel the No. 2 seeded Blue Devils (15-6) to a 61-58 victory over the Eagles.
In the other sectional contest, Bristol used a fast start and clutch play from Alyssa Giesy in the final minutes to hold off Western Reserve 49-48.
With 5:11 remaining and the score knotted at 51, Mosley made a lay up and a 15-foot jumper as part of a 6-0 McDonald run that put the Blue Devils up 57-51.
The Eagles responded with a 6-0 march that tied the game at 57 with 1:13 remaining.
McDonald's Lindsay Repp, who to totaled 21 points and a game-high 15 rebounds, came up with the next four points as she hit a lay up from the left block and hit a 6-foot jumper to give the Devils a 61-57 lead.
McDonald coach Rob Hilbun said Repp's clutch play was crucial in the waning moments.
"She's [Repp] is a phenomenal athlete and has a great motor," he said. "She gets all the hustle points we need like offensive rebound put backs and steals in transition. She took the pressure off our defense by making those plays at the end."
Mosley said she wasn't surprised Youngstown Christian came back, even after the Blue Devils outscored the Eagles 22-11 in the first quarter.
"We knew it was a big game and that it was going to be tough," she said. "We kept our heads up and kept working the whole game. We kept encouraging each other — we knew this was our game to win."
Youngstown Christian (7-15) coach Denny Malaska said he was proud that his young team got back in the game.
"After the first quarter we started going to the hoop more and we hit some shots," he said. "But Mosley was too much for us. We tried to front her, but she popped away from the hoop and hit jumpers. When she's hitting from inside and out that puts you in between a rock and a hard place. She was a one-woman wrecking machine tonight."
Strozier led the Eagles with 18 points, while Caylin Hayes scored 14 and Sara Bell 11.
Bristol raced to a 15-6 first quarter lead by forcing Western Reserve into eight turnovers and collecting four offensive rebounds.
The Blue Devils (13-9) cut the lead to 24-23 at intermission by outscoring Bristol 17-9 in the second period.
"We didn't get our offensive rebounds in the second quarter like we did in the first," Bristol coach Emily Woodford said. "We had zero offensive rebounds in the second quarter."
Western Reserve coach Josh Scott said he went with a different lineup in the second quarter to apply full court pressure to the Panthers.
"We put our quickest lineup out there to try to speed up the tempo and to force some turnovers," he said. "Once we got into our game I thought we played OK, but our slow start really set the tone for the game. We looked a little nervous at the beginning which isn't how we usually play."
Woodford said her team was prepared for the faster pace that the Blue Devils preferred to play.
"We really focused on slowing the game down and taking good shots," she said.
Trailing 45-43 with about two minutes to go, Alyssa Giesy, who totaled 23 points, hit two free throws and a three-pointer to put Bristol up 48-45 with 1:02 left.
Western Reserve's Jessie Keeler nailed two free throws with 5.2 seconds left to cut the lead to 49-48, and stole the Panther's inbounds pass before missing a potential game winner as time expired.
Colleen Kennehan had 12 points, six assists and five steals and Melissa Burky netted 13 for the Blue Devils.
Bristol's Heather Goelz scored 11 points and teammate Eden Dulka collected 11 rebounds.