Shoppers out early today for special deals
Black Friday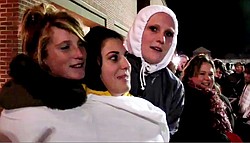 Video
BOARDMAN — Velvet Wade, 12, of New Castle, was the first through the doors when Best Buy opened at 5 a.m.
She led the throng that crowded through the doors before the sun rose. The line outside wrapped around the west side of the building.
"We got here at 6 o'clock in the morning," Velvet said, meaning today.
She was there with her cousin Dearian Richardson, also of New Castle, and Dearian's mother, Nicole Nixon of Youngstown.
"We had our Thanksgiving on Wednesday," Nixon said.
It's worth getting up early, she said. She was able to get a laptop computer — hers broke earlier this year — with more memory and at a lower cost than other stores were offering.
Velvet said the group slept and played games to pass the time. She picked up two NBA Live '09 games during her shopping expedition.
More like this from vindyarchives.com