Poland junior is honored to make people laugh
Poland Speech Champ Rachel Von Ahn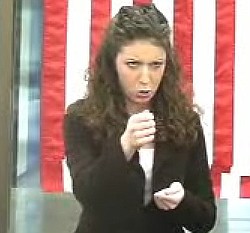 Video
Poland Speech Champ Rachel Von Ahn
By Denise Dick
POLAND — Rachel Von Ahn contorts her face into goofy expressions, takes on silly voices and executes a variety of accents all weaved into a cohesive, humorous story.
She does it better than any other high school student in the state, two years running.
The Poland Seminary High School student is the two-time champion in humorous interpretation at the Ohio High School Speech League state contest. She racked up first place in her category earlier this month and in 2007.
"I was very surprised," said Rachel, 17. "I'm still shocked."
The OHSSL doesn't keep statistics on students who earn state champion honors more than once.
"I can tell you that it's very unusual," said Linda Miller, the organization's executive director.
"And she's only a junior," said Jodi West, the school's head speech coach.
In humor, students act out excerpts from any published work, taking on the voices and affectations of the various characters in a funny way. Props aren't allowed. Rachel's cutting, "Ant Farm and Other Desperate Stories," tells several humorous tales involving 13 voices.
"It was the first book I picked up at Barnes Noble this summer," Rachel said.
Even so, she started the speech season with a different piece: the Margaret Mitchell classic "Gone With the Wind," relayed in a funny way. It didn't work, so she decided to change her cutting over Christmas break when she wasn't getting the scores she hoped for.
Rachel, who also is active in the school's band, choir, student council and theater, joined speech team her freshman year because she heard it involved acting and being funny.
"When I was in eighth grade I went to speech night — it's an event where we all perform to try to recruit people for speech," she said. "When I saw the person perform in humor, I said, 'Mom, I have to do that.'"
Besides her excellence at the state tournament and achievement as district champion in her category, Rachel also earned fourth place last year at the national tournament in Wichita, Kansas, and a berth at this year's nationals in June in Las Vegas.
After nationals, she'll start looking for a speech piece for next year.
One of the stories from this year's award-winning selection relays a story of ants, led by a stern chief ant with a thick German accent, trying to burrow out of their ant farm. They keep running into glass.
Another depicts a family dinner at the "adult table" but told from the perspective of what the children think goes on.
The regular speech season runs from October to February with students often seeing the same competitors from other schools each week.
One of the aspects of speech that Rachel enjoys most is the friendships she's formed.
"I've met a lot of great people from other school who will be my friends for life," she said.
She's learned some things too.
"It teaches you a lot: professionalism, how to deal with failure and to overcome it," Rachel said.
West attributes Rachel's success to not just her talent, but her hard work too. "Rachel is always ready to work," she said. "It doesn't matter if the weather's bad, if school's canceled, she'll be there, ready to work."
More like this from vindyarchives.com