Couple turns pizzeria into genuine Irish pub
By Don Shilling
Rocks, sand and memories of Ireland were part of the renovation.
O'Donalds Irish Pub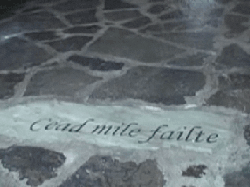 Video
New Irish Pub opening in Niles Oh.
NILES — A draft of Guinness, a waiter in a kilt and a rousing song aren't all that await diners at a new Irish pub.
The owners of O'Donold's Irish Pub and Grille, Mike and Joan Quinlan, hope it has good "craic" — an Irish word which sounds like "crack" but has a whole other meaning.
Mike is quick with a joke, Joan can be coaxed into a song and overall they hope to create a sense of welcome that can lead to "craic" — having fun with a sense of abandonment and light-hearted mischief.
The couple bought O'Donold's early last year when it was located on Youngstown Road in Warren. They quickly realized that it was too much of a bar and not enough of a pub. And it certainly wasn't Irish enough.
"An Irish pub is a public house," said Mike, whose ancestors came from Ireland. "Everyone is there — family, children and sometimes pets."
The couple, who also own Trumbull Special Courier in Warren, began to recall their trip to Ireland in 2005 and decided that they could re-create an Irish pub. They bought a former Pizza Hut restaurant at 5154 Youngstown Road, across from the West Corp. call center, and got busy.
Joan brought out some stones she had collected from the Blarney Castle area, Dingle Bay and the Cliffs of Moher, and she found the sand she brought home from Galway Bay.
Her husband had the idea of a stone wall running down the center of the pub to create the feeling of old, stone buildings that dot the Irish landscape. Wilcox Masonry in Warren used fieldstone to create the wall and mixed the Irish sand into the mortar. Plus, Joan's stones from Ireland were used in the corner that faces the front door.
"Ireland is right here in these rocks," she said.
Her husband created a Celtic cross in the floor by arranging bits of tile he had found over the years on the beaches of Lake Erie.
Joan also went online and found an old, wooden bar from an Irish pub that was for sale. She and her husband considered having it refinished and shipped here but decided that would be too expensive. Instead, they hired Cortland Hardwood Products to make a replica out of cherry wood.
"It's more like a fine piece of furniture than it is a bar," Joan said.
The chairs, bar stools and tables in the 114-seat pub are from Ireland, however. The Quinlans bought them from an Irish manufacturer because wanted authentic, dark-brown furniture to make the pub more authentic.
"We didn't want to go cheap," Mike said. "If you're going to make a commitment, make a commitment."
The Quinlans also upgraded the menu. They still offer burgers, wings and sandwiches, but chef Drew Dyett has added fish and steak dishes that weren't on the menu before.
Of course, an Irish pub needs entertainment. The Quinlans plan to have entertainment once a week, with Irish music being played at least twice a month.
You may even catch them playing one night. They are part of a four-person Irish band called Rose Thistle. Joan plays guitar, and Mike handles percussion.
Mike said singing Irish songs was a common pastime while he was growing up.
"I came to love it before I learned to love the Beatles," he said.
Despite all the preparations by the Quinlans, the pub opened Friday with one upgrade that's not finished: A red and green Pizza Hut roof remains.
"The roof will be the joke of the community for a while," Mike said.
The plan is to paint the top of the building so it has the appearance of a thatched roof.
shilling@vindy.com
More like this from vindyarchives.com