Winds down power lines, many without power
windstorm damage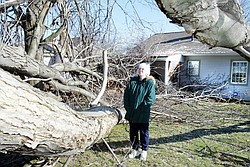 Gallery
Wind gusts that reached 60 mph around 3 a.m. Wednesday caused widespread power outages, with 20,000 customers losing electric service in Mahoning, Trumbull and Columbiana counties in Ohio and Mercer and Lawrence counties in Pennsylvania, said spokesman Paul Harkey.
At the height of wind storm, 32,000 lost power, with the hardest hit in the Youngstown-Mahoning County area. He said a 69,000 volt transmission line between Boardman and Lowellville tripped from the wind and caused an outage for 10,500 customers in Youngstown, Boardman, Lowellville, Struthers and Poland. At 8:26 a.m., the line was re-energized and power restored to those areas.
Harkey said about 600 customers in Youngstown and 500 in Salem were still without power this morning and service should be restored by noon. Crews were then to be diverted to Trumbull County where about 2,500 customers were without power, mostly in the Warren-Howland and Kinsman areas, Harkey said.
In Youngstown, fallen wires were reported in the 400 block of Alexander Street; 2000 block of Market Street (near Eagle Heights Academy); Martin Luther King Boulevard at Madison Avenue; and Shirley Road at Detroit Avenue. Traffic signals were out at Midlothian and Youngstown-Poland Road, according to the 911 Center.
The Mahoning County 911 Center said pre-dawn storm damage was cleared up by daylight and no major problems were reported.
Austintown police said the wind downed trees and tree limbs in the township but traffic was not impeded.
For more on this story, see Thursday's Vindicator or vindy.com.