---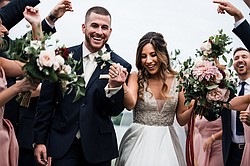 Photo
Kate Rafeedie, Matt Franklin
POLAND
The Rev. Russ Adams presided for the exchange of vows between Kate Rafeedie and Matt Franklin during their wedding ceremony Sept. 22, 2018, at The Lake Club in Poland.
After the newlyweds were congratulated at a reception at The Lake Club, they honeymooned in Hawaii. They reside in Columbus.
The bride is the daughter of Jim and Ellie Rafeedie of Boardman. Tim and Ruth Franklin of Columbus are the groom's parents.
An ivory satin, A-line ballgown with a front and back V-neckline, crystal lattice bodice and natural waist was worn by the bride. The gown's skirt flowed to a chapel train.
Kim Clifton was maid of honor. Bridesmaids, wearing dusty pink dresses, were Eliza Jones, Sarah Garwood, Kellie Wingerter, Robin Stahura, Jessica Bodamer, Cierstin Dixon and Sara Katula.
Claire Oslin and Kiera Krompegel, cousins of the bride, were the flower girls.
Eric Franklin, brother of the groom, served as best man, and groomsmen were Patrick Rafeedie, brother of the bride; Dan Fanzo; Tyler Smith; Byron Bucher; Kyle Gullette; Joe Pavlik; and Michael Toward.
The ring bearer was Seamus Krompegel, cousin of the bride.
Mrs. Franklin graduated from Ohio University with a bachelor's degree in speech-language pathology and from Nova Southeastern University with a master's in that field. She is a speech-language pathologist at Boundless Behavorial Health in Worthington.
Her husband graduated from Ohio University with a bachelor's degree in physical therapy and from Concordia University St. Paul with a doctor of physical therapy degree. He is a physical therapist at Cornerstone Physical Therapy in Granville.