---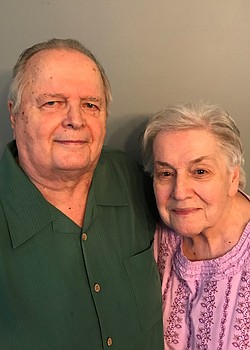 Photo
BOARDMAN
A dinner honoring Bernie and Pat Blasko of Boardman for their 60th anniversary recently took place at Michael Alberini's in Boardman. The couple's sons, Ron (Traci) Blasko of Denver, N.C.; Ray (Wanda) Blasko of Boardman; and Rich (Paula) Blasko of Canfield, hosted the event.
Jake Blasko; Mandi (Nick) Dragon; Mariah Blasko and Eliza Blasko, the couple's grandchildren, complete their family.
Mr. Blasko married the former Pat Zelonish on May 16, 1959, at St. Brendan Church in Youngstown.
Mrs. Blasko worked for Ohio Bell until 1960 and is a homemaker.
Her husband worked for Youngstown Modern Tile, Wean United and RL Best, from which he retired in 1998. Mr. Blasko also served in the U.S. Army in Korea.