---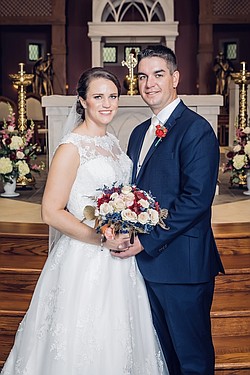 ©James D. DeCamp/OurDreamPhotos

Photo
The wedding & reception of Julianne Noll and Brian Charles photographed Saturday, October 27, 2018 at St. Matthew Catholic Church and the Jefferson Country Club. (© James D. DeCamp | http://OurDreamPhotos.com | 614-367-6366)
GAHANNA
Mr. and Mrs. Brian Charles are making their home in Blacklick after exchanging wedding vows Oct. 27, 2018. The Rev. Ted Sill officiated at the 2 p.m. ceremony that took place at St. Matthew the Apostle Church in Gahanna. The newlyweds were honored afterward during a reception at the Jefferson Country Club in Blacklick.
The bride, the former Julianne Noll, is a daughter of Robert and Janice Noll of Poland. Parents of the groom are Steven and Deborah Charles of Tallmadge.
A traditional ballgown featuring all-over lace and tulle with an A-line silhouette was worn by the bride. The illusion lace neckline continued to the back of the gown where floral lace and fabric-covered buttons embellished it. A beaded belt completed her ensemble.
Christina Noll, the bride's sister, was the maid of honor. Wearing burgundy dresses, Molly Snodgrass and Amy Noll, sisters of the bride; Julie Kenst; and Andrea Mendlow were bridesmaids.
The groom's brother, Matthew Charles, held the responsibilities of best man, and groomsmen were Kyle Watts, Aaron Kowaleski, James Huck and Christopher Petrone.
Mrs. Charles graduated from the University of Cincinnati with a master's degree in business administration. She is director of business operations at The Ohio Machine in Columbus.
Her husband graduated from Ohio State University with a bachelor's degree in mechanical engineering and is a senior mechanical engineer at MPW Industrial Services in Hebron.
The couple honeymooned in Punta Cana, Dominican Republic.