---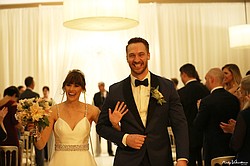 Photo
Sarah Grabert, James Harrison
CHICAGO
Karl Haff heard the exchange of vows between Sarah Grabert and James Harrison during a ceremony at 5:30 p.m. Nov. 17, 2018, at Stan Mansion in Chicago. A reception at the same location immediately followed the ceremony.
The couple honeymooned in Greece and reside in Chicago.
The bride is a daughter of Steven and Christine Grabert of Boardman, and the groom's parents are William and Joan Harrison of Chicago.
The bride wore a satin, sleeveless gown with jeweled shoulder straps and a jeweled belt.
Pamela Rowan, sister of the bride, and Rachel Harrison, the groom's sister-in-law, were matrons of honor.
Bridesmaids, wearing black gowns, were Amanda Merrill, Lela Kirkland and Trisha Cantanzriti.
Bud Harrison, the groom's brother, served as best man. Ben Flanders, Brandon Staker, Justin Dimitri and Michael Lee were groomsmen.
Mrs. Harrison graduated with a bachelor's degree in nursing from Otterbein University and a master's degree as a nurse practitioner from Ursuline College. She is a nurse practitioner for a reconstructive surgery practice at Northwestern in Chicago.
Her husband holds a bachelor's degree in business and marketing from Northern Illinois University. He is a vice president at ADP in Chicago.