---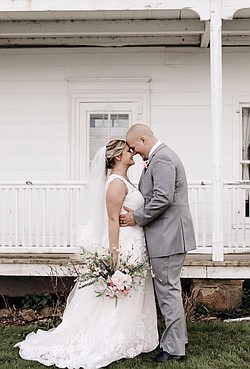 Photo
Karlee Barth, Chris Humphreys
BOARDMAN
Lance Hartshorn heard the exchange of vows between Karlee Barth and Chris Humphreys, both of McDonald, during a 1:30 p.m. wedding ceremony April 27 at St. James Meeting House in Boardman. A reception followed that evening at Our Lady of Mount Carmel in Youngstown.
The parents of the bride are Kraig and Angie Barth of Poland.
Tom Humphreys of Fowler is the groom's father.
The bride wore an ivory and blush-colored dress and veil with lace detailing.
Ashlee Barth, sister of the bride, was maid of honor. Attendants, wearing steel-blue dresses, were Annie Mineo; and Hannah and Stephanie Bass, cousins of the bride.
P.J. Ague and the groom's son, Ethan Humphreys, shared the responsibilities of best man.
Groomsmen were Cade Williams and the groom's brothers, Tommy Humphreys and Joe Nolker.
Kraig and Alex Barth, brothers of the bride, served as ushers.
Mrs. Humphreys graduated from Raphael's School of Beauty in Boardman where she earned an advanced licensed cosmetologist degree. She is a hair stylist at The Beauty Shop in Boardman.
Her husband is employed as an operator at Vallourec Star in Youngstown.
After a honeymoon in Orlando, Fla., the couple reside in McDonald.