---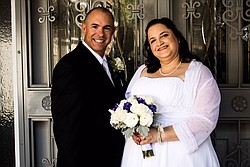 Photo
Erin Goodstein, Devin Mihalich
RIVERSIDE, CALIF.
Roger Lundblade heard the exchange of vows between Erin Goodstein and Devin Mihalich during a 4 p.m. wedding ceremony May 25 at the home of the bride's brother, Sean (Michelle) Goodstein, in Riverside, Calif., where they were honored afterward at a reception.
Lynn and Andrew Goodstein of Palm Desert, Calif., formerly of Youngstown, are the bride's parents.
The groom's parents are Pamela and Steven Mihalich of Indio, Calif.
A princess-style gown designed with an empire waist was worn by the bride. Her ensemble was completed with a matching bolero jacket.
Holly Stokes, sister of the bride, was the matron of honor. Attendants, wearing blush and French lilac dresses, were Michelle Goodstein, the bride's sister-in-law, and Jessica McQuaid.
The groom's cousin, Kaiya Cruz, was the flower girl.
Tristin Rodriguez, nephew of the groom, served as best man, and groomsmen were Sean Stokes, the bride's brother-in-law, and Sean Goodstein, her brother.
Jack Stokes and Noah Goodstein, the bride's nephews, were ring bearers.
Mrs. Mihalich attended Youngstown State University and is a photographer with Lifetouch International School Studios in Palm Desert.
Her husband is self-employed in lawn maintenance in Sun City, Calif.
The couple honeymooned in Disneyland and Universal Studios and reside in La Quinta, Calif.