---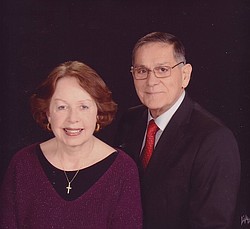 Photo
HUBBARD
Larry and Donna Pavone of Hubbard recently celebrated their golden anniversary during a dinner at Muscarella's Restaurant in Sharpsville, Pa., surrounded by family and friends.
The couple's children are Kelly (Matthew) Vogelpohl of Avon Lake, and Kris (Rachael) Pavone of Tampa, Fl. Their grandchildren, Gianna and Evan Vogelpohl, complete the family.
Mr. Pavone married the former Donna Croftcheck on Aug. 9, 1969, at Sts. Peter and Paul Church in Garfield Heights.
Mrs. Pavone is a retired elementary schoolteacher from the Joseph Badger School District in Vernon.
Mr. Pavone was the program manager of Youth Development Center in New Castle, Pa., until 2000. He also worked for the Lawrence County Family Center until he retired in 2009.
The couple are members of St. Patrick Church in Hubbard.