---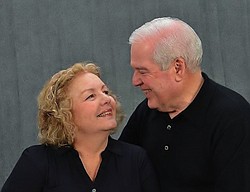 Photo
ELLSWORTH
Walter and Carol Sinn of Ellsworth were recently honored for their 50th wedding anniversary during a dinner at A La Cart Catering in Canfield.
The event was hosted by the couple's children: Pamela (Vincent) Vizzini of Poland; Rebecca (Anthony) Ucker of Macedonia; and Stephen (Jamie) Sinn of Austintown. Ten grandchildren complete their family.
Mr. Sinn married the former Carol Watson on June 14, 1969, at Ellsworth Presbyterian Church.
Mrs. Sinn was an administrative assistant at Penn Care Medical Products in Niles until she retired in 2012.
Her husband is the executive vice president of Lane Family Funeral Homes in Austintown.
The couple are members of Ellsworth Community Church, where both serve as elders. They also are Canfield/Western Mahoning County Kiwanis Club members.